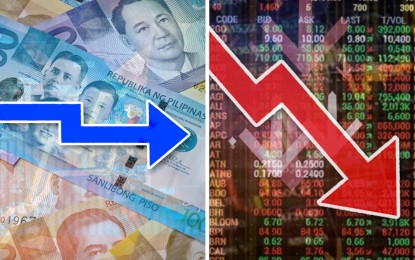 MANILA – Moody's downward revision outlook on the United States' credit rating has weighed on investors' sentiment on Tuesday reflecting the losses in the local index, while the Philippine peso closed flat against the US dollar.
The benchmark Philippine Stock Exchange index (PSEi) finished the day slipping 5.26 points to 6,110.68, with the broader All Shares going down by 5.26 points to 3,286.28.
Except for Property, all indices ended in the red territory, with the biggest shedding still coming from Mining and Oil.
"Recently, market sentiment partly weighed by the revision on the United States credit rating outlook to negative from stable by Moody's Investors Service," Rizal Commercial Banking Corp. chief economist Michael Ricafort said.
Ricafort added that despite the PSEi's shedding for two straight days, the current level is still among the three-week highs, or since Oct. 23.
The net market value turnover on Tuesday stood at PHP2.49 billion.
Meanwhile, the peso finished flat at PHP56.06 to the US dollar.
It opened the day weak at PHP56.04 compared to the previous trading's start of PHP55.94.
The currency pair traded at a low of PHP56.02 and a high of PHP56.14, bringing the average level for the day to PHP56.09 to the greenback.
The volume of trade further grew to USD1.4 billion from USD1.18 billion.
"For tomorrow, the peso exchange rate could range at the PHP55.95 to PHP56.15 levels," Ricafort said. (PNA)