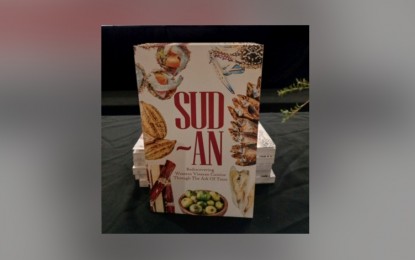 BACOLOD CITY – The Department of Tourism (DOT) and the Slow Food Community in Negros Island on Wednesday launched a cookbook titled "Sud-an: Rediscovering Western Visayas Cuisine through the Ark of Taste" as part of the 1st Terra Madre Visayas on Nov. 15 to 19 in this city.
"We take it for granted, but we have quite a variety of dishes in the whole of Western Visayas compared to other regions, so that makes it more interesting," said Reena Gamboa, president of Slow Food Community of Negros Island, who led the unveiling rites held at the Negros Residences.
"Slow food" refers to well-prepared dishes, not in haste, as opposed to fast food, and uses locally sourced ingredients.
In a video on the region's Slow Food Community shown during the launch, DOT 6 (Western Visayas) Director Crisanta Marlene Rodriguez said slow food is "good food because there is so much love and effort put into the preparation."
"It is clean because it's organic, and you know where it comes, from stories of the farmers that produce the ingredients, and it is fair because the farmers that produce the ingredients are properly paid," she added.
The 172-page cookbook includes recipes of appetizers ("abregana"), salads ("ensalada"), soups ("sabaw"), "mga adobo," mains ("sud-an"), "mga kakanin," and desserts ("panyam-is") using ingredients from the "Ark of Taste," which catalogs endangered heritage food native to the islands of Panay, Guimaras, and Negros.
Negrense chef April Lacson-Justiniani, who is part of the team that crafted the book, said "Sud-an" is "more than just a cookbook."
"It is a celebration of the art of cooking and the joy it brings to our lives. In these pages, you will find an incredible collection of recipes that have been carefully curated to showcase the best flavors and techniques from around our region," she said in the foreword.
In a portion of the book "What is Western Visayan Cuisine?" architect and food enthusiast Andrew Peñalosa said "Western Visayan food is nature's abundance at its best – fresh, varied delicious."
"It is a fusion of tradition and modernism. It adapts, grows, and becomes better over time," Peñalosa added.
"Western Visayas is a food destination, a hidden gem, waiting to be explored. Here we are reintroducing to the next generation of cooks – the importance of our rich biodiversity in food and how these ingredients are used. Encouraging the next generation of farmers to plant more, making these recipes a celebration in our tables."
With the theme, "Visayas: Food and Culture Biodiversity," the 1st Terra Madre Visayas, hosted by the Slow Food Community in Negros Island, promotes small-scale, traditional, and sustainable food production in the region. (PNA)