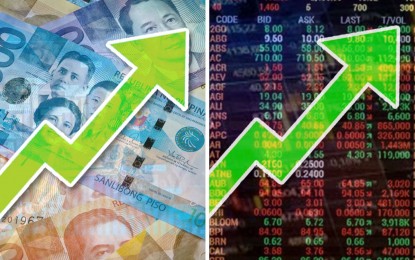 MANILA – Both local currency and stock market closed strong after the central bank's reporting of personal remittances on Wednesday.
The peso logged its new best performance in three months since Aug. 4, capping the day at 55.86 to the US dollar from a 56.06 finish the previous day.
The local currency kicked off the day strong at 55.78 and traded within the day without touching the 56-level.
"Peso (is) also stronger on continued growth in OFW (overseas Filipino workers) remittances to among record highs on a monthly basis," Rizal Commercial Banking Corp. chief economist Michael Ricafort said.
The Bangko Sentral ng Pilipinas reported that personal remittances of overseas Filipinos grew 2.6 percent year on year to USD3.23 billion in September, and rose 2.8 percent on year-to-date basis to USD27.74 billion for the January to September period.
Trade volume on Wednesday further increased to USD1.48 billion from USD1.43 billion on Tuesday.
Meanwhile, the Philippine Stock Exchange index (PSEi) snapped its two-day shedding as it closed in the positive territory.
The PSEi gained 60.25 points to 6,171.13, with All Shares rising by 21.44 points to 3,307.72 level.
Among the sectoral indices, only Industrial ended in the red, slipping by 5.67 points to 8,567.08.
Gainers were led by Holding Firms, with shares up by 77.95 points, followed by Property (+38.90 points), Mining and Oil (+37 points), Services (+17.44 points), and Financials (+6.46 points).
Eighty-four index members closed higher, 84 were losers while 47 issues were left unchanged. (PNA)