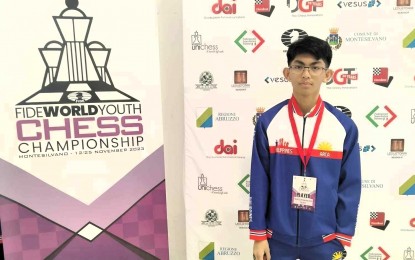 MANILA – Filipino FIDE Master (FM) Christian Gian Karlo Arca and Kazakhstan's FM Inayat Bolat agreed to a draw after 44 moves of the Catalan Opening in the third round of boys' U14 category at the FIDE World Youth Chess Championships in Montesilvano, Italy on Wednesday.
Arca, a member of the Dasmariñas Chess Academy of Mayor Jenny Barzaga, Rep. Elpidio "Pidi" Barzaga Jr. and national coach FIDE Master Roel Abelgas, now has 2.0 points on one win and two draws.
"We ended up in a draw but could White have done anything to win," Arca said after the match at the Pala Dean Martin Centro Congressi.
Arca's compatriot, Charly Jhon Yamson, also earned 2.0 points after beating Kaito Meysman of Belarus in 29 moves of the Pirc Defense for his second straight win.
"I'm happy with my performance tonight," General Trias City bet Yamson said.
Meanwhile, FM Mark Jay Bacojo and Jirah Floravie Cutiyog failed to hurdle their opponents.
Bacojo bowed to FM Simon Lamaze of France in 43 moves of the Slav Defense in the boys U18 category and Cutiyog fell to Woman Candidate Master Bozhena Piddubna of Ukraine in 46 moves of the King's Indian Defense in the girls U14. Both have 2.0 points.
In other U14 results, Woman National Master Bonjoure Fille Suyamin defeated Candidate Master Wiktoria Smietanska of Poland in 60 moves of the Slav defense to earn 2.0 points, while Anica Shey Dimatangihan has 1.5 points following her triumph over Lea Glanc of Switzerland.
Maureinn Lepaopao, on the other hand, suffered her third straight defeat after surrendering to Linnea Reinfjord Lindholm of Norway, while National Master Oscar Joseph Cantela was beaten by Candidate Master Hamed Wafa of Egypt.
Other third-round winners were Woman National Master Kaye Lalaine Regidor over Mila Radenkovic of Serbia (Girls U16); Woman National Master Franchesca Largo over Woman Candidate Master Ewa Barwinska of Poland (Girls U18); and Mark Gabriel Usman over Malachi Naskov of North Macedonia (Boys U14). Regidor and Largo have similar 2.0 points while Usman has 1.0.
The Philippine team, coached by Arena Grandmaster Almario Marlon Quiroz Bernardino Jr., Woman FIDE Master Shania Mae Mendoza and Estavillo, is supported by the Philippine Amusement and Gaming Corporation (PAGCOR), Cavite Vice Governor Athena Bryana Delgado Tolentino, General Trias City Mayor Luis "Jon Jon" Ferrer IV, Vice Mayor Jonas Glyn Porto Labuguen and Sports Development Office OIC Jon Jon Comandante, National Chess Federation of the Philippines (NCFCP) Chairman/President, Rep. Prospero "Butch" Pichay Jr. and CEO Grandmaster Jayson Gonzales, Philippine Olympic Committee President and Tagaytay City Mayor Abraham "Bambol" Tolentino and the Philippine Sports Commission. (PNA)