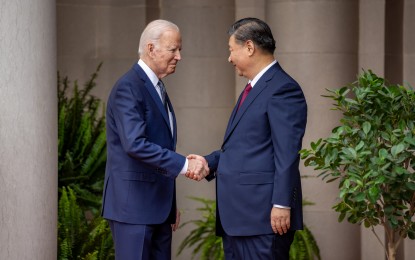 WASHINGTON – U.S. President Joe Biden and Chinese President Xi Jinping agreed to resume bilateral military communications and curb illicit fentanyl production during a summit in California on Wednesday, a display of their desire to stabilize the taut relationship between the two superpowers.
It was their first in-person summit in a year at the Filoli estate in Woodside, south of San Francisco, after a period of growing tensions between the United States and China over security, trade and technological leadership to name a few.
The four-hour-long summit took place on the margins of the Asia-Pacific Economic Cooperation (APEC) forum in San Francisco as Washington has been pushing to "de-risk" the relationship with China to prevent any misunderstanding from "veering into conflict."
Casting a set of outcomes from the summit as "some important progress," Biden highlighted his vision for competition and cooperation between the rival powers.
"The U.S. will continue to compete vigorously with the PRC, but we will manage that competition responsibly so (that) it does not veer into conflict," he told a press conference, referring to China.
"Where it's possible, where our interests coincide, we're going to work together, like we did on fentanyl. That's what the world expects of us," he added.
Biden portrayed the agreement to resume direct military-to-military contacts as "critically important."
"So, we are back to open, clear, direct communications on a direct basis," he said.
"Vital miscalculations on either side can cause real trouble with a country like China or any other major country and so I think we are making real progress there as well."
Military communications between the two sides were suspended after former House Speaker Nancy Pelosi's visit to Taiwan in August last year. Tensions escalated further in February after the U.S. shot down what it called a Chinese spy balloon over its territorial waters.
On the fight against fentanyl, Biden said the two sides reached a "new" understanding to take action to "significantly" reduce the flow of precursor chemicals and pill presses from China to the Western Hemisphere.
"It's going to save lives, and I appreciate Xi's commitment on this issue," he said. "President Xi and I (will) task our teams to maintain a policy and law enforcement coordination going forward to make sure it works."
Another outcome from the summit was to get experts from the U.S. and China together to discuss risk and safety issues associated with artificial intelligence (AI), Biden said.
"These are tangible steps in the right direction to determine what's useful, what's not useful, what's dangerous and what's acceptable," he said.
Washington has been pushing to foster international norms for a "responsible" use of AI in the military domain, as concerns have persisted that the technology can be exploited to undermine human rights and other values.
Wednesday's summit covered a wide range of issues, including Russia's war in Ukraine, the war between Israel and the Hamas militant group, human rights and the South China Sea, as well as Taiwan, a self-ruling democracy that China regards as its territory.
In a press release later, the White House said Biden emphasized the U.S.' "enduring" commitment to freedom of navigation and overflight, adherence to international law, maintaining peace and stability in the South and East China seas, and the complete denuclearization of the Korean Peninsula.
On human rights and the South China Sea, Biden said there were "no agreements."
Biden also said he stressed the importance of peace and stability in the Taiwan Strait.
In the months ahead, Washington and Beijing will continue to pursue "high-level" diplomacy to keep lines of communication open, including at the leadership level, Biden said.
With both leaders noting their relationship spanning more than a decade, the summit started off on an amicable note.
"I value our conversation because I think it's paramount that you and I understand each other clearly, leader to leader, with no misconceptions or miscommunication," he said.
Casting U.S.-China ties as the "most important bilateral relationship in the world," Xi underlined the need to develop them in a way that "benefits our two peoples and fulfills our responsibility for human progress."
"For two large countries like China and the U.S., turning their backs on each other is not an option," he said through an interpreter. "It is unrealistic for one side to remodel the other, and conflict and confrontation have unbearable consequences for both sides."
He added, "I am still of the view that planet Earth is big enough for the two countries to succeed, and one country's success is an opportunity for the other."
The meeting between Biden and Xi was their second in-person talks following their last summit during the Group of 20 summit in Bali, Indonesia, last November. It also marks their seventh interaction since Biden took office in January 2021. (Yonhap)