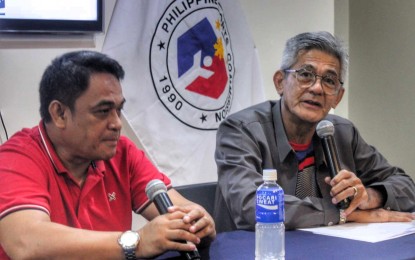 MANILA – The Philippine Sports Commission (PSC), in coordination with the National Commission on Indigenous Peoples (NCIP), will hold the Indigenous People's Games (IPG) on Nov. 18-19 at the Ramon V. Mitra Sports Complex in Puerto Princesa, Palawan.
After two years, the IP Games which was handled by the office of then Commissioner Charles Maxey, is returning with nine tribes participating in eight sports.
"It's our mandate to preserve, promote, and propagate the rich cultural heritage of our Indigenous Peoples as embodied in the Republic Act (RA) 8371. This is my second time to be involved in IP Games face-to-face. The first was during the Women in Sports activity of Com. Bong Coo in Benguet," Commissioner Matthew "Fritz" Gaston said during the Tabloids Organization in Philippine Sports, Inc. (TOPS) "Usapang Sports' at the PSC Conference Room in Rizal Memorial Sports Complex on Thursday.
"Our big challenges are coordination with the tribe leaders. But with the help of the NCIP and local officials of the province of Palawan, we talked to everyone and after a series of meetings, we arranged everything and all systems go for the return of IP Games," he added.
The nine tribes, namely Molbog, Palaw'an, Tagbanua Central, Tagbanua Tandolanen, Tabuana Calamianen, Batak, Cuyonon, Agutaynen and Cagayanen will see action in traditional sports Pana, Sibat, Supok, Pagbayo as Palay, Santik, Trumpo and Kadang-Kadang.
"Currently, we listed 196 tribe members to compete. We expect to have more during the Games proper," said Gaston, a former Games and Amusements Board (GAB) commissioner.
The PSC's IPG is by the United Nations Educational and Scientific and Cultural Organization (UNESCO) appeal for the preservation of cultural heritage, serving as a unique platform for the IPs to showcase their traditional sports and games.
The program aims to preserve traditional sports and games of the Indigenous Peoples (IPs); promote peace, unity, and harmony among different IPS; and identify potential talents among them.
Gaston said coordination is ongoing to conduct the IP Games in the other parts of the country and having a National Games may be possible in the future.
"Marami tayong IP sa Luzon. Andyan ang mga Aetas, Igorot in Ifugao, sa Visayas mga kapatid nating Mangyan at mga Manobo. Marami pa. Tukuyin natin at isa-sahin natin at kung kakayanin natin. Magandang ideya yung gumawa tayo ng National Games para sa mga kapatid nating IP (We have many IPs in Luzon. There are the Aetas, Igorot in Ifugao, in the Visayas our Mangyan brothers and Manobos. Many more. Let's identify and count and if we can, it's a good idea to make National Games for our IP brothers and sister)," said Gaston, who played in the Philippine Basketball Association from 1979 to 1986.
"We are also glad that our private partners Pocari Sweat and Milo will provide support for the project. Hopefully, we will be very much ready for the IP Games and have a successful event for us and for our IP communities in Palawan," added Gaston, a member of the Ateneo de Manila University team that won two consecutive titles in the National Collegiate Athletic Association (NCAA) in 1975 and 1976. (PNA)