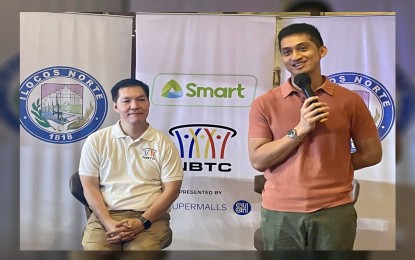 LAOAG CITY - The province of Ilocos Norte is slowly turning into a sports tourism industry as it gears up to host yet another event.
The first regional championship of the Under-19 National Basketball Training Center (NBTC) will be held at Laoag City Centennial Arena on Jan. 18 to 21, 2024.
Ilocos Norte Governor Matthew Joseph Manotoc graced the event's launch at Mall of Asia Arena in Pasay City on Thursday.
Cebu, Sarangani, and Batangas provinces will host the Mindanao (Feb.1 to 4), Visayas, (Feb. 15 to 18), and South Luzon (Feb. 29 to March 3) legs, culminating in the national finals at MOA Arena on March 18 to 24.
"We look forward to hosting hundreds of participants not just for basketball sports and tourism purposes but also, in general, for the economic benefits," Manotoc said.
NBTC program director Eric Altamirano underscored the need to "expand the glory of the National Finals to the regions."
"This is the NBTC's way of upping the ante as we aim to discover more Filipino talents from the provinces," he said.
"We, at NBTC are elated to have the regional championships -- all for the goal of advancing this noble initiative to develop skill, build character and raise leaders."
The other sporting events scheduled in Ilocos Norte in 2024 are the Region 1 Athletic Association Meet, a national beach volleyball tournament, Tinman triathlon, and international rowing and surfing competitions.
Helen Domingo, Ilocos Norte sports development officer, said in an interview Friday, that the provincial government has teamed up with different local government units and schools for the "Play Safe Fearless Program" to ensure the availability of training venues.
Ilocos Norte will likewise host the 2025 Palarong Pambansa, a national multi-sports event for grade school and secondary students.
Among the venues is the renovated Ferdinand E. Marcos Memorial Stadium, which reopened in February to accommodate larger events.
The city government of Laoag has also initially alloted PHP15 million for the establishment of a track field and other sports facilities.
The budget covers the creation of the Laoag City Sports Development Council for the 15 clustered villages, to be led by sports coordinators from the Department of Education Schools Division. (PNA)