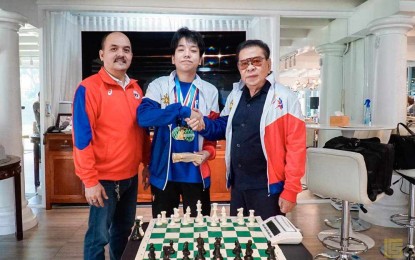 MANILA – Filipino National Master Oscar Joseph Cantela defeated local bet Narciso Sciole in the fourth round of the FIDE World Youth Chess Championships at the Pala Dean Martin Centro Congressi in Montesilvano, Italy on Thursday.
The resident of Barangay San Juan Uno in General Trias, Cavite prevailed after 47 moves of the Slav Defense to gain 2.0 points on two wins and two losses.
Cantela, a member of the multi-titled Far Eastern University chess team coached by Grandmaster Jayson Gonzales, jumped from No. 55 to No. 88 in the boys U16 category. His next opponent is American Rohan Padhye.
FIDE Masters Mark Jay Bacojo and Christian Gian Karlo Arca also hurdled their respective opponents.
Bacojo beat fellow FIDE Master Mathias Unneland of Norway in 21 moves of the Queen's Gambit Declined to earn 3.0 points in the boys U18 category, while Arca triumphed over Zanas Nainys of Lithuania in 55 moves of the Sicilian Defense to get 3.0 points in the boys U14 category.
Other winners were IM Timothe Razafindratsima of France over FM Daniel Kristoferitsh of Austria (U18) and Miraziz Kuziev of Uzbekistan over Mateo Boci of Albania.
Charly Jhon Yamson lost to Julius Jonas Pleschke of Spain and Mark Gabriel Usman bowed to Erekle Tabatadze of Georgia.
Yamson, who has 2.0 points, will face Lionel Gut of Switzerland while Usman will meet Havir Adhya of Portugal.
Meanwhile, Woman National Master Franchesca Largo beat Tetyana Skarbarchuk of Ukraine in 31 moves of the French Defense to post 3.0 points in the girl's U18. WFM Martyna Starosta of Poland also has 3.0 points after a draw with WFM Camille Blanquet of France.
In the girl's U16, Woman National Master Kaye Lalaine Regidor fell to WFM Petya Karaivanova of Bulgaria in 55 moves of the Two Knights Opening.
In the girl's U14, Anica Shey Dimatangihan survived Jenny Qi of the USA in 66 moves of Ruy Lopez Opening; Jirah Floravie Cutiyog drew with Tamara Jankovic of Serbia in 39 moves of Sicilian Defense; Woman National Master Bonjoure Fille Suyamin lost to Joy Romany of Egypt in 62 moves of the Pirc Defense; and Maureiin Lepaopao succumbed to Giulia Gabriella Galili of Italy.
Cutiyog has 2.5 points, Suyamin 2.0 points and Dimatangihan 1.5 points.
The Philippine team, coached by Arena Grandmaster Almario Marlon Quiroz Bernardino Jr., Woman FIDE Master Shania Mae Mendoza and Estavillo, is supported by the Philippine Amusement and Gaming Corporation (PAGCOR), Cavite Vice Governor Athena Bryana Delgado Tolentino, General Trias City Mayor Luis "Jon Jon" Ferrer IV, Vice Mayor Jonas Glyn Porto Labuguen and Sports Development Office OIC Jon Jon Comandante, National Chess Federation of the Philippines (NCFCP) Chairman/President, Rep. Prospero "Butch" Pichay Jr. and Gonzales (CEO), Philippine Olympic Committee President and Tagaytay City Mayor Abraham "Bambol" Tolentino and the Philippine Sports Commission. (PNA)