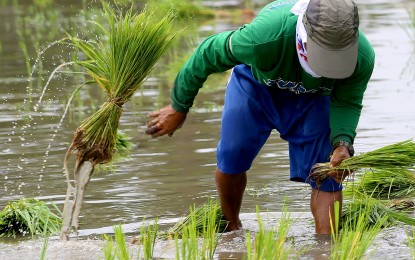 MANILA – A party-list lawmaker on Friday pushed for the creation of an agriculture pension fund for aging and elderly farmers and fisherfolk so that they may enjoy social security benefits upon their retirement.
In filing House Bill 9455, United Senior Citizens Party-list Rep. Milagros Aquino Magsaysay said the proposed agricultural pension will serve as the foundation for social security benefits that aging and elderly agriculture workers can access, similar to the pension enjoyed by employees upon their retirement.
Magsaysay noted that while agriculture is considered one of the primary drivers of the country's economy and the work of farmers is considered essential to ensuring the Philippines' food security, the agricultural sector remains one of the poorest sectors in the country.
"In as much as the government is pushing developments in agriculture and campaigning for the younger generation to take an interest in the industry to ensure continuity, it is equally imperative to ensure that our elderly farmers are well-taken care (of) in their old age," Magsaysay said.
"This is the least we could do for them after they have given the best years of their lives putting food on our tables so that we do not go hungry," he added.
The proposed fund, according to the bill, shall serve as the contribution from both the national government and local government units (LGUs), which shall be given only upon payment of the monthly contribution of the poor farmer or fisherfolk, in accordance with the schedule of payments prepared and prescribed by the Social Security System (SSS).
Farmers and fisherfolk identified to be extremely poor will avail of the full subsidy from the national and local governments until such time that upon regular assessment by their LGU under the supervision of the Philippine Statistics Authority (PSA), they have been found to be non-extremely poor.
The bill states that poor farmers and fisherfolk who are over 55 years old and would like to be part of the agricultural pension fund shall contribute only up to the time they reach 60 years old and the rest of the contribution shall be subsidized by the government to complete the minimum contribution of 120 months.
The pension fund shall have the following benefits and entitlements: retirement benefits of PHP2,000 per month upon reaching 65 years old; death benefits; and disability benefits, among others.
The SSS shall be the administrator of the agricultural pension fund. (PNA)