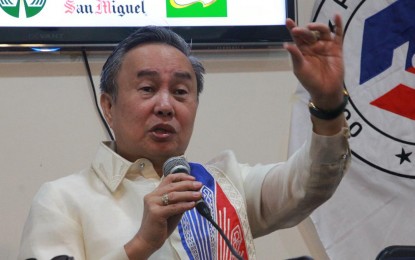 MANILA – The Asian Indoor and Martial Arts Games (AIMAG), which was reset for February next year, was postponed a second time because of its proximity to the Paris 2024 Olympics.
The AIMAG was originally scheduled this month but host Thailand postponed the 50-sport competition rescheduled every four years for Feb. 24 to March 6, 2024.
But a consensus among member national Olympic committees (NOCs) of the Olympic Council of Asia (OCA) and Oceania sought for the games' postponement citing their athletes have to prepare for the Paris Games qualifiers and the Olympics.
Philippine Olympic Committee president Abraham "Bambol" Tolentino concurred with the postponement saying it would ease the burden off the country's Olympic hopefuls.
"It's good for us, too, so we can concentrate on other qualifying events," Tolentino said in a news release on Friday.
The Philippines has so far qualified three athletes to Paris -- boxer Eumir Felix Marcial and gymnasts Carlos Yulo and Aleah Finnegan.
OCA acting president Raja Randhir Sing disseminated the information on the postponement in a letter sent to the 45 OCA member and 18 Oceania countries on Friday.
The OCA will announce the new dates of the AIMAG after the Paris Olympics that are set July 26 to Aug. 11.
The AIMAG features 50 sports, including nine Olympic events. It was last held in Ashgabat, Turkmenistan, in 2017. (PR)