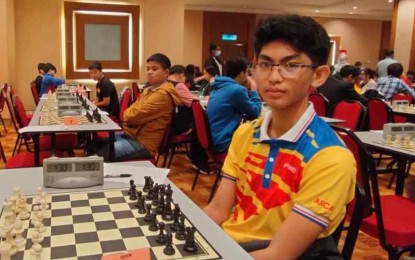 MANILA – Filipino FIDE Master Christian Gian Karlo Arca moved up to second place after defeating Norwegian Isak Vinh Brattgjerd in 57 moves of the Caro-Kann Defense in Round 6 of the FIDE World Youth Chess Championships at Pala Dean Martin Centro Congressi in Montesilvano, Italy on Saturday.
Arca tallied 5.0 points (4 wins and 2 draws) to join fellow FIDE Masters Magnus Ermitsch (Germany), Edgar Mamedov (Kazakhstan) and Pawel Sowinski (Poland) in second place in the Boys' Under-14 category.
The Filipino was sixth following his victory over Uzbekistan's Miraziz Kuziev the day before.
Ermitsch beat International Master Artem Imuskov, Mamedov downed FIDE Master Daniel Tabuenca Mendataurigoitia (Spain) and Sowinski conquered Sultanbeibarys Dumanuly (Kazakhstan).
FIDE Master Pham Tran Gia Phuc (Vietnam) and International Master Savva Vetokhin (Russia) are tied for the lead with 5.5 points each.
Pham beat FIDE Master Andrej Ljepic (Serbia) while Vetokhin toppled FIDE Master Nicolas Perossa (Italy).
Meanwhile, Filipino FIDE Master Mark Jay Bacojo settled for a draw with Grandmaster Volodar Murzin (Russia) in 44 moves of Giuco Piano Opening to earn 4.5 points (4 wins, 1 draw and 1 loss) and drop from 6th to 18th in the Boys' U-18 class.
International Master Aleksey Grebnev (Russia) prevailed over FIDE Master Aron Pasti (Hungary) to stay on top with 5.5 points.
International Master Aldiyar Ansat (Kazakhstan), FIDE Master Konstantin Popov (Russia), International Master M. Ilamparthi A.R. (India) and FIDE Master Agoston Juhasz (Hungary) have 5.0 points.
Arca will go up against Sowinski while Bacojo will face FIDE Master Nguyen Quoc Hy (Vietnam) in Round 7 on Monday.
Arca and Bacojo are members of the Dasmariñas Chess Academy under national coach FIDE Master Roel Abelgas.
"We are hoping that Arca and Bacojo can sustain their momentum in the following round," Team Philippines head of delegation, Arena Grandmaster Marlon Bernardino Jr., said in a statement.
The coaching staff includes Woman Fide Master Shaina Mae Mendoza and Arena FIDE Master Ederwin Estavillo.
In the Girls' U-14 category, Jirah Floravie Cutiyog triumphed over Jolie Huang (USA) in 42 moves of Sicilian Defense to raise her total to 4.0 points (3 wins, 2 draws and 1 loss), while Woman National Master Bonjoure Fille Suyamin drew with Guadalupe Montano Vicente (Mexico) in 41 moves of King's Indian Defense to gain 3.5 points (3 wins, 1 draw and 2 loses).
In the Girls' U-16 class, Woman National Master Kaye Lalaine Regidor trounced Woman Candidate Master Lia-Alexandra Maria (Romania) in 65 moves of Sicilian Defense, Alapin Variation to score 4.0 points (4 wins and 2 draws).
Woman National Master Franchesca Largo, on the other hand, lost to Woman FIDE Master Ana Petricenco (Moldova) in 23 moves of Ruy Lopez Opening to earn 3.5 points (3 wins, 1 draw and 2 loses) in the Girls' U-18 category.
In other matches, Mark Gabriel Usman clobbered Melvin Ral Lustig (Sweden) and Charly Jhon Yamson bowed to Giorgi Chanturia (Georgia) in Boys' U-14; National Master Oscar Joseph Cantela fell to FIDE Master Adrian Soderstrom (Sweden) in Boys' U-16; and Anica Shey Dimatangihan drew with Alexia Andries (Romania) and Maureinn Lepaopao lost to Lena Antenreiter (Austria) in Girls' U-14. (PNA)