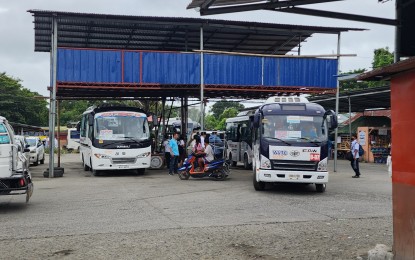 ILOILO CITY – Transport cooperatives continue with their operations, both modernized and traditional jeepneys in the province and city of Iloilo, including several members in Guimaras, Antique, and Aklan, amid the pronounced three-day nationwide transport strike starting Monday.
Raymundo "Boyet" Parcon, president of the Western Visayas Transport Cooperative (WVTC), said 100 percent of their members continue their operations although those plying from Mohon terminal in Arevalo district for passengers coming from southern Iloilo received "threat" from unconsolidated groups.
"We already sought assistance from the PSTMO (Public Safety and Transportation Management Office) to send their personnel there," he said in an interview Monday.
He said they are prepared to augment in case there is a need for more units to ensure there are no stranded passengers.
"Even unconsolidated traditional jeepneys decided to operate because that is their source of livelihood," he added.
WVTC has 65 modernized buses and over 100 consolidated traditional jeepneys plying from terminals in Mohon and Tagbak in Iloilo City, and Ungka in adjacent Pavia town.
It also has members from municipalities of Miagao, San Joaquin, Dingle, and Dumangas in Iloilo; Kalibo, Aklan; and Antique, all rendering normal operations.
"Our commuters don't have to worry because our units are on full deployment until the evening. We are just asking our city government and police for security deployment so we will not encounter problems during our operations," he added.
Metro Iloilo Transport Service Cooperatives (MITSCOOP) board chairperson Josemarie de los Reyes, in a separate interview, said their operations are in full swing and so far have not received any negative feedback, including from their first town members.
"I have 237 modernized units and over 200 units of traditional jeepneys," he said.
MITSCOOP serves routes fromTagbak terminal, Ungka-Iloilo Terminal Group Services Inc., and Bito-on, all in Jaro district; Bo. Obrero in Lapuz, La Paz-Iloilo Science and Technology University (ISAT U), and Hibao-an in Mandurriao, all in Iloilo City and from Ungka Pavia, San Miguel, Leganes, and Oton towns in Iloilo province.
"The operators (of traditional jeepneys) will not join the strike, but if their drivers opt not to work, they can do nothing about it. Anytime, I can ask for a special permit from the LTFRB (Land Transportation Franchising and Regulatory Board) to augment units to cater to stranded passengers. So far, I have not received a report of stranded commuters," he said.
De los Reyes said he has more than 60 standby units at the Tagbak terminal, although their probational authority is in the process but is ready for deployment.
"Even the local government can ask me if there are problems. Even if they declare a three-day strike, I can augment even 10 units per route, it cannot affect our commuters. If ever we can act on that scenario," he said.
Earlier, the Western Visayas Alliance of Transport Cooperatives and Corporations, Inc. (WVATCCI), with 28 modernized units and 270 traditional jeepneys, and the Alliance for Peace Sustainable Development Transport Cooperative declared they would not join the transport strike.
PSTMO head Jeck Conlu said their monitoring showed the influx of passengers is still manageable.
He added the city government provided six L-300 vans and two mini buses to assist city government employees and stranded commuters.

Two Hilux patrols monitor terminals while their personnel assist in the traffic flow.
There is also an augmentation of service vehicles from the Bureau of Fire Protection and Philippine National Police, offering free rides to commuters.
The provincial government of Iloilo also deployed vehicles in various terminals to cater to their employees and other passengers. (PNA)