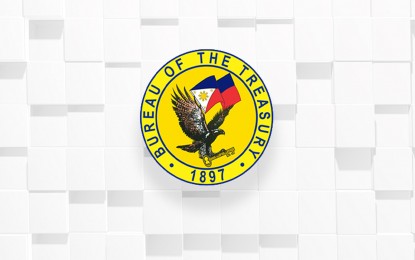 MANILA – The first Tokenized Treasury Bonds (TTBs) of the Bureau of the Treasury (BTr) on Monday was oversubscribed by more than three times, pushing the BTr to upsize the digital token debt offering.
The BTr has increased the TTBs to PHP15 billion from its initial offer of PHP10 billion, as tenders reached PHP31.426 billion, the BTr reported.
Yield for the blockchain technology-enabled debt offering is at 6.5 percent, which is aligned with the one-year secondary market rates despite TTBs are non-tradable.
"The TTBs, whose settlement is scheduled for November 22, 2023, will be issued in the form of digital tokens to be maintained in the BTr's Distributed Ledger Technology (DLT) Registry," it said.
The BTr has rolled out a dual registry structure for the program with DLT Registry and the National Registry of Scripless Securities (NRoSS) running in parallel. The latter serves as the primary registry.
The BTr issues its maiden TTBs to allow broader participation in the bond market, as well as to promote greater financial inclusion and modernization of financial platforms.
"The bond tokenization program is anchored on the national government's long-term vision of a financially inclusive domestic capital market. Through streamlining settlement procedures and minimizing friction costs, this initiative is a huge leap towards our end goal of democratizing investment and empowering our small investors," Finance Secretary Benjamin Diokno said on Monday.
The maiden TTBs have a minimum denomination of PHP10 million and in increments of PHP1 million thereafter, similar to a conventional government securities offer, the BTr said.
"The initiative by the Bureau of the Treasury to tokenize treasury bonds ties in with the broader digital transformation push and capital market development of the Bangko Sentral ng Pilipinas (BSP). Our goal is to expand investment options so that more Filipinos can grow their money through these fixed-income investments while contributing directly to economic growth," BSP Governor Eli Remolona Jr. said.
Remolona said that while the bond market's current focus is on institutional investors, the goal is to expand the program to the retail investors in the future.
Issue managers for the TTBs are the Development Bank of the Philippines and the Land Bank of the Philippines. (PNA)