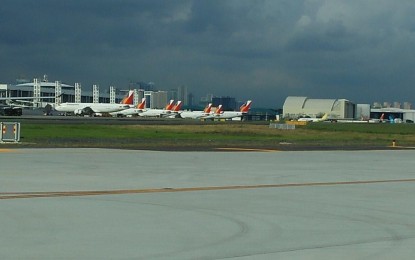 MANILA – The Philippines and South Korea's flag carriers have been exploring the integration of sustainable aviation fuel (SAF) in their flight operations as this would lessen their carbon footprint.
"We are exploring the use of SAF because it contains lower carbon emissions and reduces carbon footprint in the atmosphere and in the process, this will be beneficial to the environment," Philippine Airlines (PAL) spokesperson Cielo Villaluna told the Philippine News Agency on Monday.
She added that PAL President Stanley Ng had mentioned this to the business delegates of the recent APEC Summit in San Francisco, California.
Villaluna said Ng relayed to her that the plan is to source SAF from cost-efficient sources and that the use of SAF is being eyed by 2030.
Ng also said that PAL is continuously exploring with various stakeholders the different means to produce more SAF to make this more affordable and available for the airlines.
In a news release on Monday, on the other hand, Korean Air (KAL) announced its partnership with logistics firm, LX Pantos, to expand the use of SAF on its cargo flights.
They signed a memorandum of understanding at KAL's headquarters on Monday, and have agreed on reducing greenhouse gas emissions and fostering SAF usage awareness in Korea.
"Together, we hope to cooperate closely to expedite the commercialization of SAF, a common goal in the aviation industry, and enhance awareness of SAF utilization in the Korean market," said Jaedong Eum, KAL's head of Cargo Business Division.
KAL launched a cargo SAF program in September and has been working to establish the infrastructure for SAF usage in domestic aviation.
Six test flights were set from September to November, and KAL will share with their government the results of these test flights, to help them in setting SAF blending ratios and quality standards.
In the Philippines, low-cost carrier Cebu Pacific (CEB) pioneered the use of SAF in 2022.
CEB's first SAF-powered flight from Singapore to Manila used a 35 percent blended SAF.
According to CEB's website, SAF is made up of renewable waste and raw materials such as used cooking oil and animal fat waste. The use of SAF results in up to 80 percent reduction in carbon emission over the fuel's life cycle, the website added. (PNA)