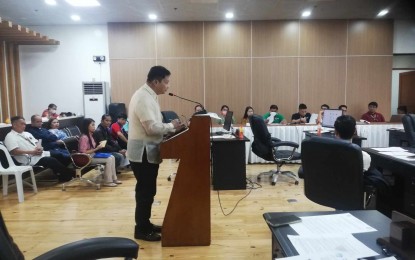 SAN JOSE DE BUENAVISTA, Antique – The Antique Provincial Board has urged hospitals to suspend the reverse transcription polymerase chain reaction (RT-PCR) requirement among patients, except if they are symptomatic or have high-risk exposure within the last 14 days before admission.
"Covid-19 cases in Antique are now on the downtrend or that it has even modified to be just like an ordinary upper respiratory tract infection that there is really no need to require patients or their companions to undergo the RT-PCR," said Board Member Egidio Elio in an interview on Tuesday.
Elio authored the resolution that called for the suspension of the requirement and was approved unanimously during their regular session on Monday.
Elio, a doctor by profession, said the resolution supports Memorandum Order 2022-0013 of the Department of Health (DOH) on the updated Guidelines on Quarantine, Isolation, and Testing for Coronavirus 2019 (Covid-19) Response and Case Management for the Omicron Variant.
"The DOH Memorandum issued on Jan. 14, 2022, has only set prioritization of RT-PCR testing among those developing severe disease such as persons above 60 years old and persons with comorbidity," he said.
The memorandum, he said, made optional the conduct of the RT-PCR, which detects Covid-19, among the asymptomatic close contacts or for the screening of the asymptomatic individuals.
He said requiring patients and their companions to the RT-PCR becomes a financial burden, and the amount they would shell out could instead be used for the other needs of the patients, some coming from far-flung areas of Antique and financially hard up.
"Patients and their companions have to shell out PHP1,800 each personal money for the RT-PCR," he said.
He added that Covid-19 vaccination has boosted people's resistance to the disease.
Elio hoped that the one provincial and eight district hospitals would comply with the suspension of the RT-PCR.
Elio added that private hospitals in Antique may also suspend the RT-PCR based on the DOH memorandum. (PNA)