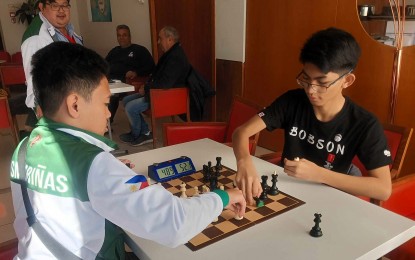 MANILA – Filipino FIDE Master Mark Jay Bacojo boosted his campaign in the World Youth Chess Championships after beating his Vietnamese rival at the Pala Dean Martin Centro Congressi in Montesilvano, Italy on Monday.
Bacojo prevailed over FIDE Master Nguyen Quoc Hy in 46 moves of the Sicilian Defense, Rossolimo Variation to earn 5.5 points and gain a share of second place with IM Aldiyar Nsat (Kazakhstan), FM Aron Pasti (Hungary), CM Chakraborty Mayank and IM Ilamparthi AR (India), and FM Tymon Czernek (Poland) in the boys' U18 category.
Russian IM Aleksey Grebnev defeated Hungarian FM Agoston Juhasz in 38 moves of the Sicilian Defense, Rossolimo Variation to keep the lead with 6.5 points.
In the boys' U14, FIDE Master Christian Gian Karlo Arca lost to FM Pawel Sowinski (Poland) in 40 moves of the King's Indian Defense and slid to 15th place with 5.0 points.
"I hope that Bacojo will sustain his winning form in the remaining rounds," said Team Philippines head of delegation, Arena Grandmaster Almario Marlon Quiroz Bernardino Jr.
"Regarding Arca, I am optimistic that he will be able to recover," added Bernardino, who is also part of the coaching staff that includes Woman Fide Master Shaina Mae Mendoza and Arena FIDE Master Ederwin Estavillo.
Arca and Bacojo are members of the Dasmariñas Chess Academy of Mayor Jenny Barzaga, Rep. Elpidio "Pidi" Barzaga Jr., and national coach FIDE Master Roel Abelgas.
In other boys' U14 results, Mark Gabriel Usman downed Marek Durovka (Slovakia) to earn 4.0 points while Charly Jhon Yamson drew with Markus Orri Johannsson (Iceland) to collect 2.5 points.
In the boys' U16, National Master Oscar Joseph Cantela bounced back from two consecutive losses and conquered Ilja Kuprijans Testelecs (Latvia) to improve his score to 3.0 points.
In the girls' division, Woman National Master Francesca Largo fell to WFM Erdenebayar Margadgua (Mongolia) for her second straight defeat in the U18 category. She has 3.5 points.
In the U16, Woman National Master Kaye Lalaine Regidor drew with Katerina Braeutigam (Germany) to earn 4.5 points.
In the U14, Woman National Master Bonjoure Fille Suyamin beat Lucia Stoll (France) to improve her score to 4.5 points while Anica Shey Dimatangihan, who crushed Maria Ioanna Haapsal (Estonia), has 3.0 points.
Other matches saw Jirah Floravie Cutiyog bowing to Halder Sneha (India) and Maureinn Lepaopao yielding to Yvonne Adego Mwashe (Kenya). Cutiyog has 4.0 points, and Lepaopao one point after seven outings.
The team is supported by the Philippine Amusement and Gaming Corp. (PAGCOR), Cavite Vice Governor Athena Bryana Delgado Tolentino, General Trias City Mayor Luis "Jon Jon" Ferrer IV, Vice Mayor Jonas Glyn Porto Labuguen and Sports Development Office OIC Jon Jon Comandante, National Chess Federation of the Philippines (NCFCP) Chairman/President Rep. Prospero "Butch" Pichay Jr. and CEO Grandmaster Jayson Gonzales, Philippine Olympic Committee President and Tagaytay City Mayor Abraham "Bambol" Tolentino and the Philippine Sports Commission. (PNA)