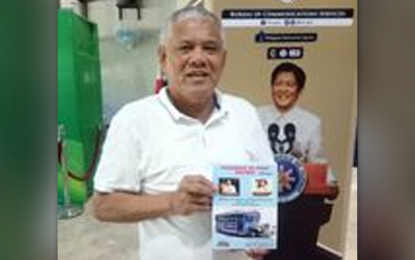 MANILA – The Liga ng Transportasyon at Operators sa Pilipinas (LTOP) begged off from the ongoing strike being spearheaded by an allied transport group.
In an interview on Tuesday, LTOP national president Orlando Marquez Sr. said even the Federation of Jeepney Operators and Drivers Association of the Philippines (Fejodap) and Pasang Masda, two other major transport organizations with nationwide memberships, will also be sitting out the strike.
He, however, emphasized that the complaints lodged by the Pagkakaisa ng mga Samahan ng Tsuper at Opereytor Nationwide (Piston), which is leading the welga (strike) against the incumbent Land Transportation Franchising and Regulatory Board (LTFRB) leadership are shared by the broader transport sector.
He said they want to personally appeal to President Ferdinand R. Marcos Jr. to help make modernization more manageable to operators.
"Chairman (Teofilo) Guadiz (III) insists that our members pay the fines we incurred during the pandemic, when we were not making any money and our families were starving. The LTFRB earlier head already agreed during our meetings to condone these fines. This issue is getting in the way of the modernization of jeepneys," Marquez said in Filipino.
He explained that the LTFRB has made the collection of unpaid fines a prerequisite to allowing individual transport operators to consolidate into bigger transport cooperatives as called for by the government's Public Utility Vehicle Modernization Program (PUVMP).
Marquez said the LTOP's ceremonial presentation of a "modernized jeepney" unit at the Malacañang Palace grounds on Thursday will be temporarily postponed until his membership get the opportunity to directly appraise President Marcos on their misgivings about unpaid fines and other issues hindering the PUVMP.
"We want to modernize (the country's PUJ fleet). In fact, I was the first operator to introduce a modern jeepney way back in 1996. We fully support President Marcos, who has been very good to the transport sector. That is why we chose not to go on strike," he told the Philippine News Agency.
Meanwhile, Marquez noted that the PISTON-led transport strike "may be felt in certain areas" but is unlikely to paralyze public transportation in Metro Manila and key areas.
He added that the Samahang Manibela Mananakay at Nagkaisang Terminal ng Transportasyon (Manibela), which has joined the protest action, has insignificant membership and is unlikely to affect the outcome of the strike either way. (PNA)