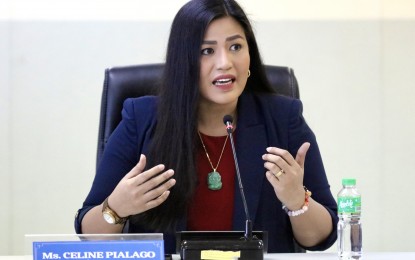 MANILA – The Land Transportation Franchising and Regulatory Board (LTFRB) said it is looking into addressing "doable" requests made by transport group Pagkakaisa ng mga Samahan ng Tsuper at Operator Nationwide (PISTON) as its members pushed through with their strike for the second straight day.
In a press conference Tuesday, LTFRB spokesperson Celine Pialago said the demands of PISTON, such as waiving penalties for those who failed the deadline for consolidation, extending the validity of a franchise to five years, and the removal of some provisions in the Omnibus Franchising Guidelines (OFG) are possible and being studied.
However, Pialago said the demand to remove the consolidation requirement and scrapping the public utility vehicle (PUV) modernization program (PUVMP) in its entirety are "non-negotiable but can be simplified."
While the deadline for consolidation on Dec. 31 may remain, she said unconsolidated PUVs may still continue to operate beyond that date if they file an intention to consolidate.
"All [jeepney operators/drivers] need to do is to file their intention to join the PUVMP. It's just a one or two-page letter," she said.
A meeting between PISTON representatives and LTFRB Chair Teofilo Guadiz III is expected to take place to negotiate their demands.
To date, she said around 129,568 PUJs, UV Express, mini-buses, and buses have already consolidated, making up 65.03 of all authorized PUVs.
In addition, 60 percent of PUJs have consolidated plus around 70 percent for UV Express.
By next year, she said those who fail to consolidate or file an intent to do the same may not be allowed to operate as it will be a requirement for registration under the Land Transportation Office (LTO).
"Confirmation [from the LTFRB] will be the basis of registration with the LTO. Technically speaking, if you're not registered, you can't drive," she said.
On Monday, PISTON pushed through with its three-day strike to protest the consolidation deadline on Dec. 31 and other components of the PUVMP.
In response, the Metropolitan Manila Development Authority (MMDA) and local governments in the National Capital Region (NCR) have dispatched 'libreng sakay (free ride)' shuttles in areas affected by the strike. (PNA)