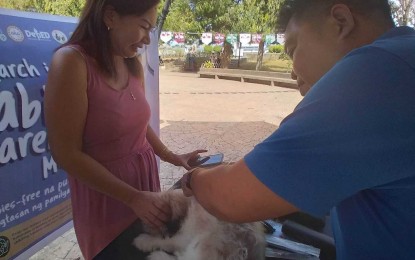 ILOILO CITY – The Provincial Health Office (PHO) here is still validating two probable cases of human rabies, which once confirmed, will raise Iloilo's total positive cases to five.
PHO chief Dr. Maria Socorro C. Quiñon on Tuesday said the investigation continues for the seven-year-old boy from the town of Carles, while the Provincial Epidemiology and Surveillance Unit (PESU) is trying to determine another case in the municipality of Mina.
The seven-year-old boy has no history of dog bites, but probably a rabid dog has licked his wound.
The medical officer did not divulge details of the last probable case because they have yet to elevate the result of their investigation to the regional health office for validation.
Meanwhile, the three other cases include a 41-year-old male from San Dionisio, a 28-year-old male resident of Igbaras, and a 37-year-old male from New Lucena.
"The Iloilo provincial government continues to strengthen its anti-rabies campaign. The province has allocated budget not only for vaccines for human rabies but also for the vaccination of our dogs," she said.
Quiñon said their advocacy for those bitten by dogs or cats to immediately go to animal bite treatment centers in hospitals or rural health units nearest them.
She added the provincial government provided 70 percent of the dog registry in every local government unit, and their counterpart was to administer vaccination down to the barangay level.
Data from the Provincial Veterinarian's Office showed that as of Nov. 14, around 75.77 percent or 228,436 of the 302,302 dog population were vaccinated.
"For the province, we targeted to declare the province as rabies-free in 2026," said Provincial Veterinarian Dr. Darel Tabuada.
For the past two years, he said the provincial government has allocated around PHP8 million for the purchase of rabies vaccine to cover at least 70 percent of the dog population in the province.
From last year's 99 canine and animal rabies, this year it declined to 55 cases, attributed to the high vaccination rate. (PNA)