LETTERS FROM DAVAO
By Jun Ledesma
AT this point in the presidential and vice-presidential race, the players already have the gut feel how each of them is faring in the derby. Strangely in our country where no candidates ever lost except when cheated, the spectacle never ceased to entertain.
Let's look at the results of the various surveys done. The Bongbong Marcos - Sara Team had been leading in all straw polls. Survey results give the public, political parties, and candidates a hint of the perception of the voting populace. For the candidates to ignore the survey results, therefore, is like going to war without a battle plan.
The Laylo Research Strategies survey done on presidential and vice-presidential preferences show how candidates fare in every region. It provides a veritable scenario of people's sentiments which may serve as a guide to candidates. Ignoring the data, like some candidates grudgingly do, is a fatal mistake. A good example is Partido Reporma's Ping Lacson and Tito Sotto. When this cursed party was resuscitated by ex-Speaker Bebot Alvarez and drafted the two as the party's standard-bearers, the senators were made to believe that Partido Reporma (PDR) is the ruling party in Davao. Of course, that was farcical. If at all PDR had some foothold then it was in Davao del Norte. But no longer. The recent surveys showed PDR hardly made a dint. Lacson can hardly believe he can only muster 3% nationwide and his and Sotto's showing was even miserable in Davao del Norte the party's supposed bastion.
Leni Robredo's eager beavers were celebrating over Google Trends showing her on top of the scoreboard. Either they don't know how GT works or are merely stonewalling the fact that GT merely tracks and records the number of netizens at a given time, who show interest in a particular person, topic, or news pertaining to candidates. It does not however reflect a person's voting preference or the candidates' popularity.
The size of a crowd in rallies can also be deceptive especially when candidates tag along with a bevy of movie stars and rock bands or bus-in spectators to augment the number of people in the audience. It's really a costly proposition for a grand self-deception.
But then hope springs eternal. Where the quest is for power hope adds an opiate that drives men and women to perdition and later to anonymity. The only advantage of this lunacy is that these political characters add billions to money in circulation.
Comments
About the Columnist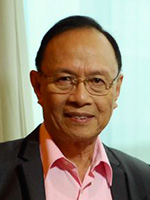 Mr. Jun Ledesma is a community journalist who writes from Davao City and comments from the perspective of a Mindanaoan.