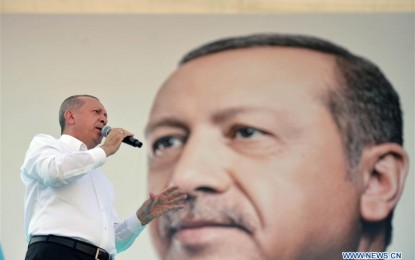 ANKARA, Turkey — Turkish President Recep Tayyip Erdogan and his alliance at the parliament won in Turkey's presidential and parliamentary elections on Sunday, state-run Anadolu Agency announced.
Erdogan had 52.5 percent, with 98 percent of the votes counted in his bid for a presidency with broadly expanded powers, according to Anadolu Agency's unofficial results.
In his first statement on Sunday evening, Erdogan declared victory, pledging a new era of a strengthened democracy and economy under the new governing system.
"According to unofficial results, the outcome of the elections is clear. The nation has entrusted me with the role of presidency and executive power," Erdogan said in his residence in Istanbul.
"In the same way, a big responsibility was given on the shoulders of People's Alliance and of Justice and Development Party (AKP) at the parliament as it gets majority," he said.
"It's now time to leave all political debates of the election campaign behind and to get focused on the future," Erdogan added.
His closest challenger, Muharrem Ince of the main opposition, secularist Republican People's Party (CHP), received nearly 30 percent of the votes.
The jailed candidate Selahattin Demirtas of the pro-Kurdish Peoples' Democratic Party (HDP) got around 8.3 percent, while Meral Aksener, the only female presidential candidate in the race, had 7.4 percent of votes.
Sunday's vote will pave the way for the full implementation of the new executive presidency long sought by Erdogan.
In the parliamentary contest, the ruling AKP of Erdogan had 42.4 percent and its ally, the Nationalist Movement Party (MHP), won nearly 11.2 percent, after 98 percent of votes were counted.
The CHP had 22.7 percent and the HDP held 11.5 percent, exceeding the 10 percent threshold to enter parliament.
The turnout was high at around 87 percent for both contests, with more than 59 million voters heading to the polls.
Turkey held Sunday's elections under a state of emergency declared after a failed military coup in July 2016.
CHP party spokesman Bulent Tezcan, however, challenged the election results provided by the Anadolu Agency, saying the party would continue working through the night to monitor the counting of the votes.
CHP's presidential candidate Ince also labeled election reports from the Anadolu Agency of "manipulation." The CHP said it had recorded violations in the southeastern province of Sanliurfa.
Although having the highest number of lawmakers at the parliament, the AKP may lose the majority at the 600-seat parliament since the party has received only 293 seats, according to initial results.
Only alliance with the MHP, which had 11.2 percent of votes, will enable the AKP to keep the majority of the parliament.
The AKP has already made an election alliance with the nationalist party under the People's Alliance.
The opposition Nation Alliance, which consists of secular CHP, nationalist Good Party and Islamic-leaning Felicity Party, hovered around 33 percent at the parliament.
The presidential and parliamentary elections will complete Turkey's transition from a parliamentary system to a new executive presidential one, a move approved in a referendum last year. (Xinhua)