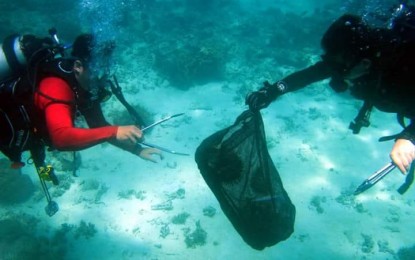 ILOILO CITY – A group of divers has partnered with various stakeholders in Iloilo and Antique as it embarked on a six-month underwater cleanup in Antique's Nogas Island, a favorite diving spot in Anini-y town.
"We looked forward to have cleaner reef for Nogas Island and control the over population of the crown of thorns that preys on corals," said Karlo Agao, a dive instructor of the Basecamp Divers Iloilo, on Monday.
The group together with representatives from the Provincial Environment and Natural Resources (PENRO) of Antique, Community Environment and Natural Resources (CENRO) Belison and the association of banca operators in Nogas gathered on Sunday (Sept. 30) for a whole day underwater and coastal clean-up drive.
The initiative targeted abandoned fishing lines, plastic sachets, straws, shampoo and bottled water and crown of thorns, which belongs to the starfish family.
Agao said the problem on the crown of thorns is not endemic to the Nogas Island but is a worldwide concern.
"Everybody is doing the same to control the overpopulation of that species," he said.
The cleanup kicked off on Sept. 21-22 in partnership with the Jollibee Nogas Island Care for the Environment (NICE) and the provincial government of Antique.
During the cleanup, the divers were able to collect some eight mesh bags of solid wastes and crown of thorns.
"Nogas Island is a tourist destination. It could not be avoided that some visitors throw their garbage into the sea," he said, adding that the clean-up activity will be done twice a month. (PNA)