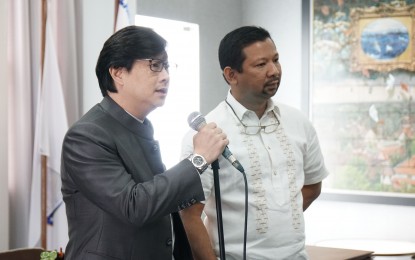 CEBU CITY – The top official of the Land Transportation Office (LTO) in Central Visayas has requested the Department of Environment and Natural Resources (DENR) to allow their office to utilize a government-owned vacant lot in Barangay Subangdaku, Mandaue City as their impounding area, and ultimately, as headquarters of their regional office.
LTO-7 Regional Director Victor Emmanuel Caindec said Tuesday he has sent an official communication to DENR Secretary Roy Cimatu, asking permission for the regional agency to use the property owned by the national government as impounding area of vehicles apprehended for traffic violations and for operating as "colorum" (unregistered vehicles).
Caindec said he is also looking forward to making the area the future home of LTO in Central Visayas, as Mayor Tomas Osmeña announced last August his plan to evict the LTO-7 from its current location in a city-owned lot along Natalio Bacalso Avenue.
In his letter addressed to Cimatu and coursed through DENR-7 Regional Director Gilbert Gonzales, Caindec said the vacant property across the regional office of the National Telecommunications Commission and the LTO Motor Vehicle Inspection Center office is now surrounded by informal settlers.
The property, he also said, "is partly being utilized as an eco-park managed by Barangay Subangdaku".
Caindec said the property with an area of 10,000-sq. meters is part of the 52,976-sq. meter property which is only covered with a tax declaration.
LTO-7 is now complying with the documentary requirements under Memorandum Circular No. 1997-02 in acquiring the property. In the meantime, Caindec said they are requesting for temporary utilization of the lot.
"To ensure the continuity of our operations against traffic violators and colorum operators, LTO Region VII need(s) to establish a permanent impounding area that would be able to cater to the needs of the office," he said.
At present, the LTO in Central Visayas is occupying a property owned by the Provincial Government of Cebu as its temporary impounding area.
Caindec said LTO's occupation, although free of charge, is only limited for six months, starting last Dec. 10 up to June 9, 2019.
He said the agreement was covered with a memorandum of agreement (COA) signed by him and Cebu Governor Hilario Davide III.
Prior to the use of the provincial lot along Archbishop Reyes Avenue, LTO-7 had been occupying a 3,000-square meter private lot along C. Padilla Street "which costs the government an exorbitant monthly rental fee" of PHP390,000 or a "staggering yearly expense" of PHP4.680 million.
The amount, he said, "could have been utilized for more public-worthy endeavors." (PNA)