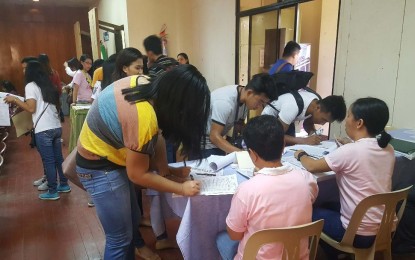 LEGAZPI CITY -- The head of the Department of Labor and Employment (DOLE) regional office said that more than 100 applicants were "hired-on-the-spot" in the recently held Bantayog Festival Job Fair in Daet, Camarines Norte.
"At least 118 job applicants were hired-on-the-spot to work as bank tellers, promo dicers, sales clerks and production operators," said Lawyer Alvin Villamor, DOLE regional director, in an interview on Wednesday.
He said that out of the 460 applicants, 292 were qualified and interviewed.
There were 18 participating employers that posted a total of 9,061 vacancies for overseas and local employment.
The Bureau of Jail Management and Penology, the only participating government agency in the Bantayog Festival Job Fair, also promoted its mass recruitment for jail officer.
Villamor urged new graduates and other job seekers to avail of the opportunity to land a decent job presented in job fairs.
He cited the role of various industries and sectors in creating job opportunities and fueling economic growth.
Villamor said employment facilitation and job creation are the keys to accelerate achievement on the agenda of inclusive growth, peace and development towards realizing the aspirations of all Filipinos. (PNA)