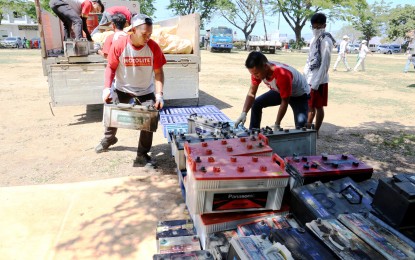 SUBIC BAY FREEPORT — Various stakeholders in this Freeport continue to work hand-in-hand in employing waste management efforts.
The Subic Bay Metropolitan Authority (SBMA), through its environment arm Ecology Center, in collaboration with the Freeport-based locators and investors, launched Thursday the 6th Recyclable Collection Event (RCE).
This is in line with SBMA's "War on Waste" program to maintain Subic as home to booming industries and businesses while keeping a thriving natural environment.
Ecology Center manager Amethya dela Llana said more business locators now see the benefits of properly disposing of trash.
The participating companies brought to the collection event various recyclable items like used car batteries, cardboard, and paper scraps, busted light bulbs, used industrial and automotive oil, among others.
Dela Llana added that recyclable items like old tires, expired medicines, rubber shoes/slippers, and used clothes will also be accepted in the next collection event.
"It has been our company's initiative to properly dispose of our hazardous wastes, being a company that conducts inspection, verification, and tests on various products such as gas, oil and other chemicals," said Marge Lingad, administrative officer of SGS Subic.
Lingad said the firm used to outsource treatment of wastes generated by their operation.
"But now we have found an economical way to dispose of these and at the same time, help raise funds for the environment," she added.
SBMA chairman and administrator Wilma T. Eisma, for her part, said the activity encourages Subic stakeholders to help keep this freeport clean by collecting recyclable materials and bringing them to accredited waste handlers for recovery and upcycling.
Recyclable items generated through the SBMA project are sold to recyclers, and proceeds are donated to the ABS-CBN Lingkod Kapamilya Foundation, which funds the Bantay Kalikasan, an organization that promotes a healthy environment for local communities.
"Through this initiative, we hope to be able to control or minimize the illegal disposal of solid, toxic and hazardous wastes in both the land and water bodies in the Freeport, and, thus, help secure the local environment for future generations, as well as for economic sustainability," Eisma said.
Among the top donors of recyclable waste in the 5th RCE event was Hanjin Heavy Industries and Construction Co., Ltd. which donated PHP32,160 to the Bantay Kalikasan program.
Other top donors include Subic Truckboy, SGS (Subic Bay) Inc., Broadband Broadcast Services, Nidec Subic Philippines, Sanyo Denki Phils. Inc., Koryo Subic, Subic Bay International Terminal Corp. (SBITC), Wistron Infocomm Phils., Mateen Tokyo Intl. Inc., and Apollo Subic International Trading Corp.
The RCE is part of the SBMA's "War on Waste" program that also included an anti-littering drive, regulated use of plastic straws and plastic bags for wet products, and ban of single-use plastics. (PNA)