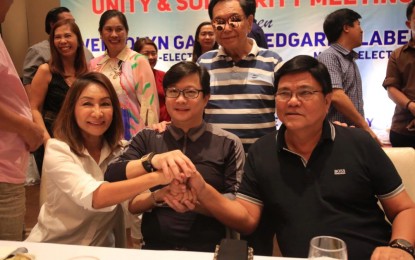 CEBU CITY -- The top presidential aide for the Visayas has expressed confidence that the long-dreamed of body that will harmonize development in Metro Cebu and the Light Rail Transit (LRT) project would materialize now that the Province of Cebu and the City of Cebu have new leaders belonging to one party.
Secretary Michael Lloyd Dino, chief of the Office of the Presidential Assistant for the Visayas (OPAV), assured the Cebuano community that the Metro Cebu Development Authority (MCDA) may soon have its "breath of life" because of the election of Cebu's 3rd District Rep. Gwendolyn Garcia as governor of the province and Vice Mayor Edgardo Labella as mayor here.
With the new leaders, Dino, in his message during the unity and solidarity meeting between Garcia and Labella here Saturday, said he was also positive that the LRT would be operational before President Rodrigo Duterte's term ends in 2022.
In its first-quarter meeting last March 18, the Metro Cebu Development and Coordinating Board (MCDCB) pushed for the approval of an executive order creating MCDA, that "will act as the overall body to oversee services that have multi-local government unit or metropolitan-wide coverage."
The MCDA will "formulate, coordinate, regulate and monitor the short, medium, and long-term plans, policies, and programs for the sustainable development and integration of Metropolitan Cebu Area."
In 2017, Cebu City's North District Rep. Raul del Mar said House Bill 6227 seeking for the creation of MCDA had passed the House committee on rules.
Under Del Mar's bill, MCDA shall comprise "the core metropolitan area embracing the highly urbanized cities of Cebu, Mandaue, and Lapu-Lapu and the cities of Danao, Talisay, Naga and Carcar as well as the municipalities of Consolacion, Liloan, Compostela, Cordova, Minglanilla, and San Fernando."
However, Del Mar lamented that the proposal for the creation of the development body has failed at least twice before.
He noted two congressmen and a mayor did not support the bill.
Meanwhile, Dino also assured Garcia and Labella that the construction of the LRT in Metro Cebu would start soon after the approval of its feasibility study by the National Economic and Development Authority.
He said the national government would likely help Cebu, now that local government officials here are united and have the same vision of development as Duterte.
"President Rodrigo Duterte, as promised, wanted to refocus infrastructure projects from only in Luzon to Visayas, specifically Cebu City and Cebu Province," he added.
Dino further said the LRT, as mass transport backbone of Metro Cebu, will serve the Cebuanos from end-to-end under the Department of Transportation's (DOTr) Integrated Inter-modal Transport System (IITS).
Garcia, for her part, expressed support to the IITS project for Metro Cebu, saying that she believed the solution to traffic can be solved through coordination of the towns and cities in the metropolis.
She said the traffic problem is not limited only to Cebu City.
Metro Cebu has three independent cities (Cebu, Mandaue, and Lapu-Lapu), four component cities (Danao, Talisay, Naga, and Carcar), and six municipalities (Compostela, Lilo-an, Consolacion, and Cordova in the north, and Minglanila and San Fernando in the south), with 2.849 million in population spread all throughout the 349 villages. (PNA)