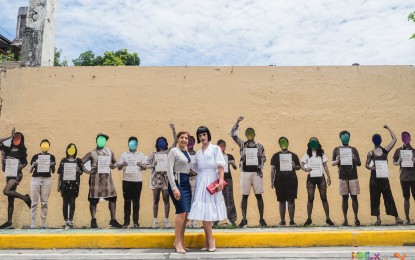 MANILA -- The walls of Intramuros in Manila just got colorful as the Austrian Embassy in the Philippines painted it with pride and equality festival 2019 from June 25 to 30.
MNLxVIE Equality Fest 2019 is a five-day celebration that started on June 25 and organized by the Austrian Embassy and its partners to promote equality amid diversity among various gender preferences.
On June 26, the Intramuros Administration unveiled the pride-themed public mural situated across Museo de Intramuros.
The artwork, a collaborative project of the Austrian Embassy, was materialized through Austrian artist Katharina Kapsamer and Salzburg Global Forum fellow Ralph Eya.
In a statement sent to Philippine News Agency Wednesday, Ambassador Bita Rasoulian said that the project attempts to influence our perception of ourselves.
"A public wall mural, it inspires attitudinal change by forcing us to confront our sense of identity and togetherness," she said.
For All LGBTQIA+ (lesbian, gay, bisexual, transgender, intersex, queer/questioning, asexual and others) is the second version after For All Women. Featuring mirrored portraits of celebrated and up-and-coming artists who are also members of the LGBTQIA+ community, For All LGBTQIA+ finding a home in Intramuros is a tangible artistic expression of the inseparability of identity, freedom, culture, and sense of community.
The project, in partnership with the Intramuros Administration and with the Austrian Embassy at the helm, is the complete creative fusion of Austrian artist Katharina Kapsamer's urban adventure project "Smile At A Fire Hydrant" and Salzburg Global Seminar for Young Cultural Innovators Alum Filipino artist Ralph Eya's new genre public art initiative "We Are Common".
The five-day festival championed human rights and the dignity of the LGBTQIA+ through creative activism.
It was presented in cooperation with the UP Center for Women's and Gender Studies, UP Babaylan, Babaylanes, Inc. and Benilde Hive; with the support of EuroPride Vienna 2019, MAC Cosmetics Philippines, Intramuros Administration, Film Development Council of the Philippines, DigiAds and Think Big Events; and venue partners Tarzeer Pictures, Tomatito Manila, UPFI Film Center - Cine Adarna, Cinematheque Centre Manila, School of Fashion and the Arts and XX XX. (PNA)
(PNA)