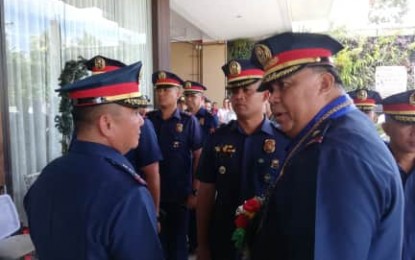 DUMAGUETE CITY -- The Negros Oriental Provincial Police Office (NOPPO) is expecting new police personnel to be assigned in the province, an official said Friday.
Provincial Police Director Col. Raul S. Tacaca said Brig. Gen. Debold Sinas, regional director of the Police Regional Office 7 (PRO-7) covering the Central Visayas, has promised to deploy additional police personnel for Negros Oriental.
However, it was not immediately known how many police officers will be sent to Negros Oriental, Tacaca said.
He said the ideal ratio would be one police officer for every 500 persons.
He said this is one of the concerns he raised during the PRO7 regional command conference here.
Among the Army officials who attended the conference were Lt. Col. Ramir Redosendo, commander of the 11th Infantry Battalion and Lt. Col. Randy Pagunuran of the 94th Infantry Battalion.
Officials from the 302nd and 303rd Army brigades were also present as the brigade commanders were at a meeting at the Central Command (Centcom) in Cebu, Pagunuran said. (PNA)