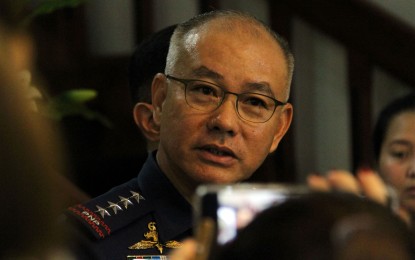 DUMAGUETE CITY – "Operation Sauron" or the intensified campaign of the Armed Forces of the Philippines (AFP) and the Philippine National Police (PNP) in Negros Oriental will continue, according to PNP Director, General Oscar Albayalde.
Albayalde issued the statement during a visit to the wake of four policemen at Camp Francisco Fernandez in Agan-an, Sibulan, Negros Oriental over the weekend.
Since "maganda ang epekto," (the results were good) if we see that this Oplan Sauron is effective to end insurgency not just in Negros but throughout the country, then why not," Albayalde pointed out.
"Operation Sauron", which pertains to the beefed-up campaign of the AFP and PNP against suspected New People's Army (NPA) guerillas in Negros Oriental, does not hinder the campaign against criminality and illegal drugs, he stressed.
Records show that in less than six months, 20 people were killed as part of the campaign.
In November last year, President Rodrigo Duterte issued Memorandum Order 32 directing the military and the police to undertake all necessary measures to suppress any and all forms of lawless violence in the Mindanao region and the provinces of Negros Oriental, Negros Occidental, Samar and Bicol.
The same directive prompted the deployment of additional troops in Negros Oriental.
In an official statement read by Albayalde at the Negros Oriental Provincial Police Office (NOPPO) command, he vehemently denounced and condemned in the strongest sense the inhumane acts and gross violation of human rights committed by the Communist Party of the Philippines-New People's Army-National Democratic Front (CPP-NPA-NDF) to the four policemen who were slain Thursday last week.
He said the long arms of the law are now stretching within and beyond the borders to catch all those responsible for the death of the policemen.
"We are calling on the people of Negros Oriental to maintain their allegiance to the sovereign power of the state, reject and deny the promotion of arms struggle being viciously inculcated in the minds and hearts of the people by the CPP/NPA/NDF terrorists for this is the greatest hindrance to progress and development that everyone is entitled to enjoy," Albayalde said. (PNA)