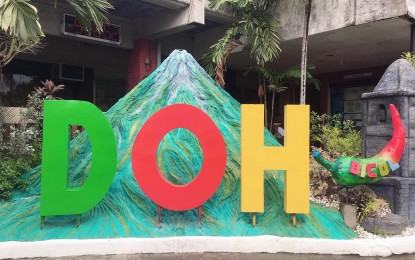 LEGAZPI CITY -- The Department of Health (DOH) in Bicol on Monday said dengue incidence in the region has reached an alarming level with a total of 3,631 cases and 37 deaths from January 1 to July 27 this year.
Dr. Ernie Vera of the Regional Epidemiology Surveillance Unit (RESU) said the figure indicates a 134-percent increase from the 1,582 cases reported during the same period of last year.
He also said they recorded a 27-percent surge in cases within a two-week period (July 18 to 29) from 2,660 to the current 3,631 cases.
He said they expect more cases to be reported during the rainy season until the end of the year.
Vera noted that of the fatalities due to the mosquito-borne disease, most are children aged 4 months to 10 years old.
Camarines Sur had the highest number of cases with 1,433; followed by Albay with 679; Sorsogon, 653; Catanduanes, 485; Masbate, 242; Camarines Norte, 135; and others (visitors), 4 cases.
Vera explained in a phone interview that although the total number of dengue cases has reached an alarming level, it did not yet breach the threshold level and is not enough reason to declare an outbreak.
He said that to declare an outbreak, there should be a cluster of villages with a high incidence of dengue, but "so far, what we get are only sporadic cases".
Vera said he would ask the local health board of various local government units to implement an "institutional preventive and control" measure against dengue by requiring the community to carry out a "synchronized" cleanliness sanitation activity to stop the spread of dengue in the villages.
The measure would also impose sanctions and penalties to those that violate the order, Vera said.
"While doing the 4S routine measures, we have to move forward in a synchronized manner in fighting dengue," he said.
4S stands for "Search and Destroy" mosquito breeding places, "Self-protection measures", "Seek early consultation" for fever as early as one day, and "Say yes to fogging" as a last resort when there is an impending outbreak.
Meanwhile, declared dengue hot spot areas in Bicol are 30 villages in Camarines Sur; 14 in Sorsogon; Albay, 12; Catanduanes, 7; and Masbate, 5.
Hot spot dengue areas are villages with incidence of dengue within a four-week period. (PNA)