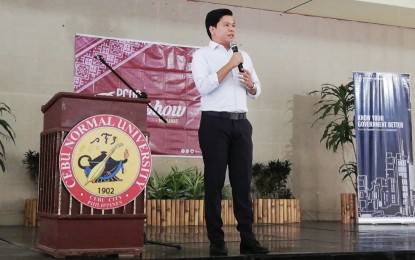 CEBU CITY – A ranking official of the Presidential Communications Operations Office (PCOO) on Tuesday enjoined local government units (LGUs) in the country to pass a Freedom of Information (FOI) ordinance that will provide the public easy access to information.
Assistant Secretary Kristian Ablan, a lawyer and program director of the PCOO FOI Program, said the PCOO partnered with the Department of the Interior and Local Government (DILG) in disseminating the administration's advocacy in making government records and information accessible to the public.
"We are trying to call on LGUs specifically their respective Sanggunians to pass their FOI ordinance. The DILG and the PCOO are working together to help LGUs come up with their ordinance on freedom of information," Ablan said on the sidelines of the PCOO Roadshow on FOI and Media Security at the Cebu Normal University.
Ablan led other government workers, members of the academe and students in the 2019 FOI Campus Caravan-Cebu leg in the same university.
The DILG and the PCOO came up with joint memorandum circular 2018-1 encouraging towns, cities, and provinces to pass their ordinance institutionalizing FOI under Executive Order No.2 signed by President Rodrigo Duterte on July 23, 2016, two days before he delivered his first State of the Nation Address (SONA), Ablan said.
"This is in preparation for (the year) 2020 where FOI ordinance will become one of the criteria for the Seal of Good Local Governance (SGLG)," he said.
Republic Act 11292 or the "The Seal of Good Local Governance Act of 2019" refers to the SGLG as "an award, incentive, honor and recognition-based program for all LGUs, and is a continuing commitment for LGUs to continually progress and improve their performance".
According to Ablan, the template of the FOI ordinance can be downloaded by the LGUs at the DILG at the FOI website.
In Cebu province, the PCOO has been in constant communication with Councilors Eduardo Rama of this city and Malcolm Sanchez of Mandaue who promised to pass their respective FOI ordinance.
There are 15 LGUs in the country that have passed an ordinance institutionalizing FOI, Ablan said.
Lawyer Tristan De Guzman, chief of policy, planning and support division of the PCOO FOI Program, told the media in a press briefing that the Duterte administration is in constant coordination with the lawmakers for the passage of a legislated FOI law.
Ablan urged around 200 government information officers and spokespersons, college professors and students who participated in the roadshow to use the FOI "to combat misinformation and fake news against the government".
"You have Facebook, you have Wikipedia, you have other sources of information from the internet. Why do you still need FOI? Well, government is a rich source of information that you can use to improve your life," he said.
The official said there is information about college scholarship, financial assistance from the government, and infrastructure projects that have been reported by traditional media, but can be readily available through FOI.
The PCOO, he said, will conduct more roadshows after the five similar events in Tuguegarao, Cagayan, Legazpi, General Santos, Surigao and in Cebu on Tuesday in order to educate the public about the significance of having free access to government records and information through FOI. (PNA)