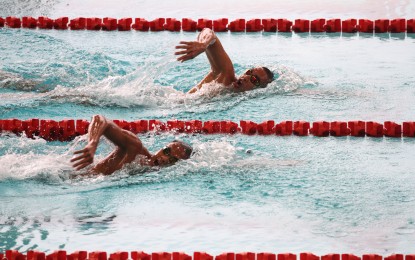 CAPAS, Tarlac -- Alberto Batungbacal of Ayala Harpoons Swim Club (AHSC) topped the men's 200m breaststroke event on Sunday night to join the list of double-gold winners in the 1st Philippine National Open Swimming Championships at the New Clark City Aquatics Center which has been certified by FINA, the world-governing body in swimming.
Batungbacal, who was named Most Valuable Player during his stint with the Ateneo senior team, clocked 2:22.14 to beat Ianiko Limfilipino of QCSC Buccaneers Swim Club (2:22.28) and Jordan Lobos of Swimming Pinas (2:24.46).
The 5-foot-11 Batungbacal won his first gold medal after ruling the 1500m freestyle event last Saturday (Aug. 31). The tournament also serves as qualifying for the forthcoming 30th Southeast Asian Games.
"I'm happy because my performance in the 1500m freestyle gave me a slot in the national team," said the 22-year-old athlete from Quezon City. He won the event in 16 minutes and 39.38 seconds, beating teammate Miguel Barreto (16:54.89) and Marcus De Kam of SwimPinas (17:14.83).
Batungbacal, whose other two siblings are also swimmers in the UAAP, has three more events -- 100m breaststroke, 200m Individual Medley (IM) and 400m freestyle.
"I hope to do well in my three remaining events," said Batungbacal, who graduated with a business management degree last year.
Xiandi Chua and Fil-Americans Luke Gebbie and Remedy Alexis Rule were also impressive and nailed their second gold medals in the competition organized by the Philippine Swimming Inc. (PSI) headed by Lani Velasco and supported by the Philippine Sports Commission (PSC) and the Bases Conversion and Development Authority (BCDA).
The 18-year-old Chua, representing All Star Swim Club, took the gold medal in the women's 400m IM event in 4:59.62. Gianna Garcia of D'Ace Seahawks (5:15.92) won the silver while Micaela Jasmine Mojdeh of SwimPinas (5:16.76) got the bronze.
Chua, a multi-medalist in the SEA Age Group Championships last year, had earlier won the 200m IM (2:21.18) over Nicole Pamintuan of DLSZ (2:26.72) and Zoe Marie Hilario of AWSC (2:29.57).
Gebbie dominated the men's 50m (22.90 seconds) and 100m (50.24) freestyle events while Rule won the women's 50m (26.34) and 100m (58.29) freestyle events.
Meanwhile, Olympian Jessie Khing Lacuna (AHSC) bagged the gold medal in the men's 400m IM (4:33.96) over Thomas Peregrina of FilForeign Team (4:35.31) and Steven Francis Ho of Green Mariners SC (4:44.60).
Lacuna, who competed at the 2016 Rio Olympics, settled for the silver medal in the 200m IM where he clocked 2:08.21. Peregrina won (2:08.14) while Maurice Sacho Ilustre of De La Salle-Zobel got the bronze in 2:11.30.
Ilustre submitted the fastest time of 2:04.95 in the 200m butterfly event. He also won two bronzes coming from the 100m freestyle (51.93 seconds) and 200m IM (2:11.30).
Chloe Kennedy Isleta (FilForeign) registered 2:18.38 to claim the gold medal in the women's 200m backstroke. Roxanne Ashley Yu of ASSC was second (2:18.62) followed by Georgia Peregrina (FilForeign), who clocked 2:22.46.
Isleta had earlier won the silver in the 50m freestyle (26.99) and the bronze in the 100m freestyle (58.87).
Rosalee Santa Ana (FilForeign), Kirsten Chloe Daos (QCSC Buccaneers Swim Cub), Thanya dela Cruz (Marikina Poseidon Swimming Club) and Phillip Joaquin Santos (AHSC) has one gold each.
Santa Ana, who was born and raised in the US, won the women's 800m freestyle (9:09.41) over Daos (9:29.19) and Gianna Garcia of DASH (9:41.41).
Daos regained her composure in the women's 200m butterfly, winning the event in 2:18.69 to beat Santa Ana (2:18.97) and Mojdeh (2:23.25).
Thanya dela Cruz copped the gold medal in the women's 200m breaststroke with a time of 2:44.03. Bella Louise Magtibay (DLSZ) placed second (2:49.09) and Alyza Paige Ng (UNAT) was third (2:54.42).
Santos won the men's 200m backstroke in 2:09.20 to beat Steven Francis Ho of GMSC (2:12.36) and Akiva Jose Carino of AHSC (2:12.57). (PNA)