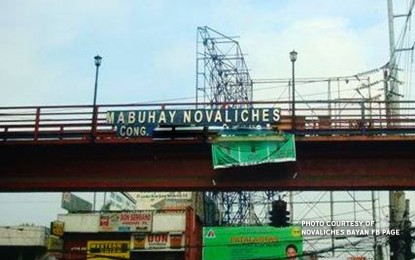 MANILA -- As the people of Bulacan mark their annual "Singkaban Festival" (formerly Linggo ng Bulakan) themed "Sining at Kalinangang Bulakenyo, Dangal ng Pilipino" from Sept. 8-15, it may be of interest to them to know that the neighboring former town of Novaliches was a part of their historic province.
Here's why: Among the different "pueblos" or towns created in the Philippines during the Spanish regime, the former municipality of Novaliches, now shared by Quezon City and Caloocan City in Metropolitan Manila, may very well have the most unfortunate and checkered history.
When it was established on Sept. 22, 1855, it was a part of Bulacan province, together with the then towns of Polo (now Valenzuela City), Meycauayan City, San Jose del Monte City, and the heritage City of Malolos.
Three years after its creation, Novaliches was annexed in 1858 to the province of Manila, which was one of the first eight provinces that joined the revolution launched against Spain on Aug. 23, 1896 by the Kataas-taasang, Kagalang-galangang Katipunan ng mga Anak ng Bayan (KKK) led by Gat Andres Bonifacio and his fellow patriots. The other seven provinces were Cavite, Laguna, Batangas, Bulacan, Pampanga, Nueva Ecija, and Tarlac.
These and other related facts were documented in the historical book titled "Kasaysayan ng Novaliches" (History of Novaliches) written by historians and researchers Prof. Rosalina M. Franco-Calairo of the University of the Philippines-Los Baños, and her son, Prof. Emmanuel Franco Calairo of De La Salle University-Dasmariñas.
The book, published in 1997, was based on various historical data and documents that the mother-and-son team was able to gather after years of painstaking research at the National Archives, the National Library, the De La Salle Library-Filipiniana Section, and the University of the Philippines-Diliman Library.
According to the book, Novaliches played a very important role during the revolution against Spain since it served as a gateway between the then neighboring provinces of Bulacan and Manila, which was later renamed Morong and now Rizal province. It served as staging or gathering area of the Katipuneros from Central and Northern Luzon during Bonifacio's unsuccessful attack on the Spanish fortress in San Juan del Monte on Aug. 30, 1896.
It was because of the important role played by Novaliches in the 1896 Revolution that a street in Makati City, located at the old Makati Poblacion, has been named Novaliches, along with other historically noted places such as Malolos, Biak-na-Bato, Pasong Tamo, Barasoain, Kakarong, Kawit, Imus, Zapote, Pasong Tirad, Pateros, and Antipolo, among others.
At the outset of the Filipino-American war on Feb. 4, 1899, Gen. Antonio Luna, in a move to prevent the capture by pursuing American forces of President Emilio Aguinaldo, then headquartered at Malolos, Bulacan, decided to put up a strong defense perimeter along the Tuliahan River from Novaliches to Caloocan, Malabon and Navotas.
During that time, Novaliches had a common boundary with the Bulacan towns of Polo, Meycauayan, Marilao and San Jose del Monte, and Caloocan, Montalban, San Mateo, and Marikina.
As one of the immediate gateways to the north from Manila, Novaliches received tremendous bombardment from the American forces pursuing General Aguinaldo and Luna's men. Due to the combined forces of Gen. Henry Lawton and Gen. Arthur MacArthur Jr. (father of the famed Philippine liberator from the Japanese rulers in 1941-1945, Gen. Douglas MacArthur), Gen. Luna's men were forced to move back and put up new defense perimeters in Calumpit and Baliwag in Bulacan.
The book said MacArthur's forces first landed in Novaliches on March 24, 1899. Because Novaliches had served as an important leg of Luna's defense perimeters, the American soldiers put the town on fire before proceeding to pursue the Filipino forces in Bulacan.
There was no official record, but that war caused a big reduction in the population of Novaliches. This was shown by the population census conducted during the American regime in 1903. That census, indicating that Novaliches only had a population of 1,558 men and women as of 1902, was held following the formation of Rizal province from the former military district of Morong.
As a result of the drastically reduced population of Novaliches, the town was reduced to a barrio and annexed to neighboring Caloocan municipality as part of the new rulers' austerity measures.
At that time, several other towns in the newly-created Rizal province were also merged. Among these were San Mateo and Montalban; Marikina and Pasig; San Juan and Mandaluyong; Malabon and Navotas. They were later restored to their independent status.
Unfortunately, Novaliches remained with Caloocan, which became a city in 1962.
During the liberation of Manila from the Japanese occupation in 1945, Novaliches again played a vital role.
The same book narrated that the liberating American forces of Gen. MacArthur chose to pass through Novaliches instead of the old Manila North Road in Polo, Bulacan. This time, the guerrilla forces from Novaliches rendered valuable assistance to MacArthur's men on their way to Manila, which was 18 kilometers away.
In 1948, when Quezon City was declared by Congress as the new capital of the country, replacing Manila, the boundary of QC was relocated northward, dividing Novaliches into two parts–half ceded to QC and the other half remaining with Caloocan, which also became a city in February 1962. This divided status of Novaliches remains at present.
Quezon City, on the other hand, lost its capital city status on May 30, 1976, after then-President Ferdinand E. Marcos restored Manila as the Philippine capital under Presidential Decree No. 940. (PNA)