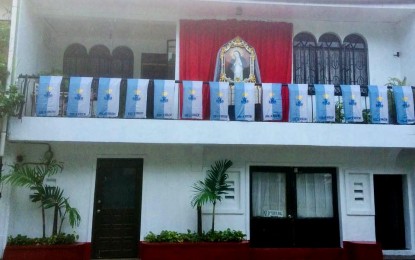 CAVITE CITY, Cavite -- This coastal component city of Cavite, oftentimes mistaken as the province, is known for its cultural, historical, religious, and natural heritage, such as its port and shipyard that were built in the 1500s – said to be the country's first -- and the Marian image that is estimated to be 450 years old.
A welcome addition is a 1960s house located along Lopez Jaena Street in San Roque village, known as the Dela Cruz Ancestral House.
Odie dela Cruz, who is in charge of the house, said the property was once owned by Florentina Gomez and functioned as the home of Funeraria Central.
"It served the same function for its new owner, my great grandfather, Jose de la Cruz, as an annex of Funeraria Filipinas on Dra. Salamanca Street where the lower ground was used as a funeral chapel and the upper level as his house," dela Cruz said.
Funeraria Filipinas is Cavite City's oldest operational funeral home.
"It is for this reason why the family decided to come up with the family history museum in our house," he said.
Established in the 1930s by Jose dela Cruz and his wife, Amparo Mariano de la Cruz, "Filipinas" provided services for the wake of some of the most distinguished personalities, among them city officials and dignitaries, as well as ordinary folks.
Today, it is being used solely as an ancestral house that the dela Cruz family has occupied for more than six decades now.
The house has three bedrooms, a kitchen, and a living room adorned with family portraits and memorabilia.
The kitchen displays baskets and mats from different provinces, an old iron, and 1850s beer bottles. It also displays heirloom kitchenware, which remains functional.
The house also holds family memorabilia, its funeral business, antiques, some natural history collection, and mementos of the Nuestra Señora de Soledad de Porta Vaga, the Patroness of Cavite province.
The dela Cruz family is devoutly Catholic. It is a tradition of theirs to observe the celebration of the Fiesta de la Reina or the feast day in honor of the Nuestra Señora de Soledad de Porta Vaga.
This devotion was inherited from the family matriarch, Norma Carballo dela Cruz, wife of Rodolfo dela Cruz, youngest son of Jose.
The ancestral house also hosted a "luwa", a poem in honor of Soledad recited by a lady, during the Procesion del Silencio of Good Friday in 2017.
It first opened its doors to the public last month, in time for the nationwide commemoration of museums and galleries month. It is open on Saturdays and Sundays.
Interested visitors are advised to secure an appointment a week before their visit through cellphone no. +63-977-784-4113 or through its official Facebook Page: facebook.com/DeLaCruzAncestralHouse. (PNA)