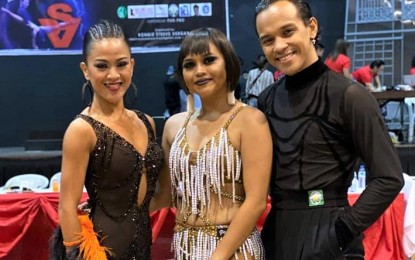 BAGUIO CITY – Students from Baguio's big three universities accounted for the 4-3-3 gold-silver-bronze medals won by Team Philippines in the on-going South East Asian Games (SEAG).
Saint Louis University (SLU) and the University of Baguio (UB) have three present and former students in the medal tally even as two University of the Cordilleras (UC) contributed to the country's best-ever performance that has left the 10 other SEA nation members biting the dust.
Baguio-raised Stephanie Sabalo helped start the gold rush Sunday after she and partner Michael Angelo Marquez finished with two golds and a silver as the Philippines dancesport team nearly swept the event with 10 of the possible 12 golds.
The duo finished strong in overall Latin by beating Vietnam and Thailand, who finished second and third, respectively.
Then, the Filipino duo took the pasodoble gold ahead of Singapore.
But Sabalo and Marquez came up short in jive, behind the Vietnamese duo they beat in overall Latin.
In her Facebook wall, Sabalo thanked the Philippine Amateur Gaming Corporation (Pagcor) for its help in the dancesport.
She wrote, "Thank you very much to our dear beautiful sponsor Ma'am Andrea Domingo of Pagcor."
She added that Pagcor gave "us huge support and undying trust that we could mold ourselves in competitions and training camps in Europe, because of you we've had learnings in our journey."
Another former SLU student who now spends his time with the national team in Pasay City where the wushu teams are based, Jones Inso added another silver on Dec. 2, the country's 14th silver medal.
Inso took the silver in the men's taijijian event at the World Trade Center in Manila after tallying 9.65, a close second to gold medalist from Malaysia, Loh Choon How, who scored 9.68.
In winning the silver, Inso told the Philippine News Agency (PNA) through Facebook message after his win: "I'm so fulfilled."
Brunei's Zheng Yu Hosea Wong took the bronze medal after a 9.60 performance, while veteran campaigner Daniel Parantac, of UC, finished sixth after scoring 9.54.
Inso had placed fourth in the taijiquan, with his score of 9.54 just behind Parantac's 9.56, who took the bronze medal in what could be his final SEAG.
The 22-year-old Inso now is eyeing a medal finish in duilian with a weapon along with fellow Cordilleran Thornton Sayan and Johnzenth Gajo.
"May duilian pa po bukas (There is still duilian tomorrow [Tuesday])," he added.
On Tuesday, the trio took the bronze in men's duilian with weapons right after Agatha brought home her second gold in taijijian.
Sayan is from the neighboring town of La Trinidad like Inso but studies at UC like Parantac.
Monday morning saw arnis taking over the spotlight and become the most prolific sport after winning seven golds for an eye-popping 12 medals.
Two locals earned gold medals, while a third failed in his semifinals bid.
Abegail Abad and Elmer Manlapas took the gold in their respective divisions in the padded arnis events.
UB president Herminio Javier Bautista expressed delight upon hearing of their two students' success in the 30th SEAG where the Philippines is light years away from its closest pursuers.
"Of the 35 Baguio based athletes posted by the city sports coordinator, 22 of them are from UB which was something to crow about.
"Happy na sila (they are happy) sir Javier and JB (UB treasurer Johann Ben Bautista)," said UB athletic director Alan Elegado, who will join the table tennis officiating team on December 6.
However, Ezarai Yalong could only finish with a bronze after his semifinals win against a Cambodian combatant was reversed an hour after he was declared the winner and before his finals match.
"We are very disappointed and we will help file the protest along with our coach with the officials," he said.
On Monday, SLU's Billy Joel Valenzuela also won a silver in arnis.
On Tuesday, two of the six wushu sanda players seek the gold medal in the finals.
Multi medalist Divine Wally will seek redemption after her semifinals loss to a Vietnamese foe in the World Wushu Championship last month.
First-time participant Gideon Fred Padua will also vie for the title in the 60-kilogram division, even as four of his teammates go for gold.
Earlier, Ifugao native Estie Gay Linawen bagged the gold medal in the 63-kilogram event of Kurash Sunday at the Laus Group Event Center in San Fernando, Pampanga.
Meanwhile, the muay Thai team is confident to finish with medals when they start playing on December 4 at the Subic Bay Exhibition Convention Center in Subic.
Muay Thai waikru and taksa are supposed to be played today, Dec. 3, but then moved to the next day, maybe due to typhoon "Tisoy" which ravaged southern Luzon including Manila.
Muay Thai waikru and taksa competitor Rusha Bayacsan, an alumna of the Benguet State University will join Cebu native Irendin Lepatan on the female side. Lepatan is sporting a busted nose which was accidentally hit by Bayacsan during last Friday's demo at the UB gym.
"Okay na po naibalik na. Nasasaktan lang siya pag naggalaw (Her nose has been fixed. It is only painful when touched)," Bayacsan told the PNA Tuesday via Facebook message.
UB alumni and former wushu taolu coach Jearome Calica and Joemar Gallaza are entered in the male competition and who appear to have the better chance of winning gold with the absence of Thailand, the land of birth of the sport.
"The men's pair has a good chance of winning with Thailand absent but must look after Vietnam which will have a very competitive team," said coach Billy Alumno, a former UB boxing player.
Also seeing action in muay Thai but in the combat side are Jenelyn Olsim of UB and Islay Erica Bomogao, who just finished senior high school at BSU but aims to enroll at UB for a course in forensic.
Team Lakay's Jean Claude Saclag, Gina Iniong, and Jerry Olsim will see action in kickboxing along with Jomar Balangui also of UB and the wushu sanda silver medalist in the FISU (International University Sports Federation) and Renz Daquel.
Saclag, a former Asian Games silver medalist in wushu sanda, and Iniong a four-time national wushu sanda champion are UC graduates.
UB's boxers include Karol Maguide, Aira Villegas and Amateur International Boxing Association champion Nesthy Petecio.
Two-time world Taekwondo Poomsae champion Jeordan Dominguez and Realis Lorena Tabiando will see action in taekwondo.
UB's Kareel Meer Hongitan and Grade 11 Jason Emmanuel Feliciano will see action in archery.
Hongitan hopes to improve her bronze medal performance during the last SEAG.
"May boxing, archery, combative pang ibang players. Hindi pa nagsisimula ang laro nila (We still have players in boxing, archery and combative and they have not played yet)," added Elegado.
In sambo, UC alum Mariane Mariano, who won medals in the SEAG, the Asian Games and the Beijing, China Olympics in 2008 as a wushu sanda player will return to fighting and join wushu sanda's most decorated fighter, Rene Catalan of Iloilo.
Other Cordillerans in sambo are Helen Aclopen, bronze medalist in the -52kg sambo in the 2019 World Martial Arts Masterships last Aug. 30 until Sept. 6 in Chungju, Chungcheongbuk-do, South Korea, and silver medalist in the 2nd Southeast Asian Sambo Championship in Kota Bandung, Indonesia last June 22; Jedd Andre Diño Kim, winner of the half middleweight category for the under 17-year old category in the 2012 International Cadet Judo Championship in Singapore from August 18-19, 2012 while still a sophomore at the SLU Laboratory High School.
He also won the silver medal in the 74kg division in the 2nd Southeast Asian Sambo Championship; and, mixed martial artist Mark Striegl.
Baguio-grown Majoy Baron and former UB top player Mylene Paat will suit up for the women's volleyball team. (PNA)