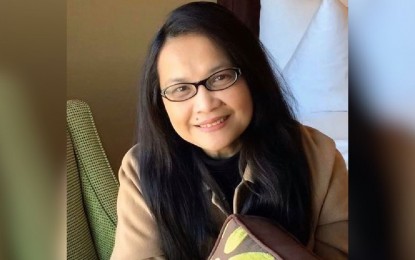 MANILA – For a US-based Filipina medical front-liner infected with the coronavirus disease 2019 (Covid-19), there is no obstacle that she can't handle because survival means taking charge and understanding what has to be done to take care of oneself, and working with government and medical authorities to flatten the curve,
Beth Mayran, 56, of Calbayog City, Samar, is a health care worker for almost 16 years in one of the suburban hospitals in Illinois, USA. In February, she said she was one of the health care workers assigned to take care of patients, though not on a daily basis, in the newly opened Covid-19 Unit at the hospital where she worked.
Hardworking as most Filipinos overseas are, Beth developed Covid symptoms in early April after all the days of exposure to Covid patients.
"The first five days I just called off from work and self-isolated myself based on our safety and standard protocol. Those first five days I had chills, body aches, and fevers. I took only Tylenol to ease my fever, but it only lowered my fever for two hours, then fever up to 104.7 Fahrenheit continued to persist," she narrated.
After reaching out to her hospital's Employee Health services, she was tested on April 13 and the result came back positive. She was advised to stop taking Tylenol so as not to mask the healing process.
She was neither encouraged to be in the hospital unless she develops chest tightness or respiratory distress. Most of their facility's Covid patients, she said, are treated of their underlying medical conditions or if they have immunocompromised conditions.
Since there is no proven medication yet that directly treats Covid-19, Beth personally preferred to self-isolate at home than be in the hospital.
"I openly spoke to my family at home about our plan and safety precautions while I stayed in the basement of our house strictly isolated so as not to compromise my family while I combat the disease," she said.
She admitted to having struggled for two weeks, fighting the virus with no medication at all. On April 26, 18 days after self-isolation, she finally loosened up the grip of the virus in her body.
Strict discipline, mindset
"It is strict discipline and process of thoughts. Focus and self-awareness are vital to get through it. Having no medication, mindset is very important too. I used a basic approach both traditional and practical to fight the disease," she said.
She recalled that she lost her sense of taste and smell at the height of her struggle with the virus, and having high fever and chills almost every day for 12 days coupled with body aches and dry cough easily drained her strength.
"There were days that I can only tolerate drinking water, freshly squeezed juices, homemade ginger tea, and salted water. I just regained my appetite a few days ago," she said.
Support system
In life's ups and downs, people need others who listen, understand, and can be depended upon during tough times.
The positive benefits of support system proved true for Beth whose family provided a reason for her higher level of well-being, and better coping skills.
"My family is so supportive of me. They assisted me with my needs while adhering to the mandated social distancing, good hand washing, and using masks at home," she added.
Although they only communicate by phone and that they only leave her food and drinks outside her room door, she said having open communication with them eased possible misunderstandings, unnecessary fears, and the risk of transmitting the virus to other members of the family.
God is strength in her weakest
Although it wasn't an easy fight for Beth, she attributes her courage and resilience to get through with the virus to her childhood life and upbringing in a remote village in Samar.
"This virus tested my faith to believe when that's all the option for me, to hope against hope and to never cave in unless surrendering means winning. It's spirit over matter. I always believe that in my weakest, God is my strength," she said.
She admits to being a private person but is happy to share her experience if it can uplift a little to kababayans (fellow Filipinos) to stay focused and be cooperative to the mandates of leaders and help in containing this disease.
As of this posting, Beth is up and about and grateful to be back on her feet.
"I want to be strong and be ready to work this coming week," she said, adding that she already attended an office online town hall meeting the other day through WebEx.
Indeed, Beth's story can do more than reassure us that we, too, will survive — her experience offers a portrait of people rising to meet extraordinary challenges of fighting this global pandemic. She reaffirms the values that will not merely help us through coronavirus but could save, if not cure, our pre-existing individual challenges. (PNA)