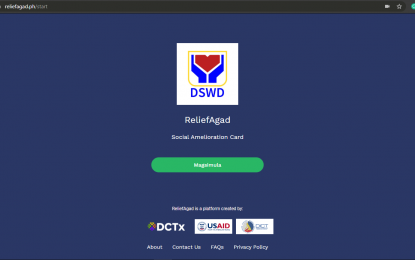 MANILA – A new online platform that would collect data of Social Amelioration Program (SAP) beneficiaries was launched on Thursday in order to hasten the distribution of the government's relief program.
Department of Information and Communications Technology (DICT) Assistant Secretary Emmanuel Rey Caintic said the platform, dubbed ReliefAgad, is now available at reliefagad.ph.
"ReliefAgad is a quick relief system which would allow LGUs (local government units) and DSWD (Department of Social Welfare and Development) to quickly capture electronic data and deliver relief to target beneficiaries," Caintic said during a virtual press briefing on Thursday.
DSWD Undersecretary Danilo Pamonag said the new system would expedite the delivery of cash subsidies from the government, specifically in the second tranche of the SAP.
Andrew Ambubuyog, director of the DSWD Information and Communication Technology Management Service, said the platform was developed through a partnership between the DSWD, DICT, Developers Connect (DevCon) — an organization of Filipino software developers — and the USAID.
He said it was developed after the initial SAP encountered challenges such as the lack of beneficiary data at the LGU level, laborious process of collecting and encoding beneficiary information, and the manual cash distribution process that further delayed the distribution of cash relief.
With the new platform, he said the DSWD and LGUs will be able to expedite the collection of Social Amelioration Card (SAC) data and interface with several electronic payment systems — such as PayMaya, GCash, LandBank Cash Card, among others — that would allow almost instantaneous cash distribution with no need for lines or physical contact.
The system was developed through a combination of crowdsourcing from the DevCon Community of Technology Experts and the DICT, with data security vetted by DICT and strictly follows policies on data privacy in the country, Ambubuyog said.
"Vetted by DICT and developers. And no data is left in mobile phones. Dumaan po sa testing at certified naman po ng DICT (It went through a testing phase and was certified by the DICT)," he added.
The system uses the AWS Cloud Service managed by the DICT and DCTx which allows for a minimum of 300 transactions per second, vulnerability assessment and penetration testing certification, as well as monitoring of incoming and outgoing traffic.
For beneficiaries with no access to smart phones or other devices, Caintic said they can be enrolled in the system through manual batch encoding by their respective LGUs.
"May manual encoding kaya kahit walang smartphone, pwede i-encode ng LGUs. Comprehensive po ang system, meron po siyang LGU module. Kumpleto na at hindi na magkakagulo ang datos ng mga recipient (There's manual encoding so even without a smart phone, it can be encoded by LGUs. The system is comprehensive, it has an LGU module. It's complete and recipient data will not be disorganized)," Caintic said.
As of Wednesday, Pamonag said the government has so far distributed a total of PHP94.3 billion to 16.7 million beneficiaries of the SAP.
"Meron 1,107 out of 1,634 LGUs ang nakapagkamit ng 100 percent completion rate sa pamamahagi ng SAP. Meron na rin 139 lokal na pamahalaan na nakapag-submit ng kumpletong liquidation report at 65 LGUs naman ang malapit na makatapos ng liquidation (There are 1,107 out of 1,634 LGUs who have completed their SAP distribution. There are also 139 LGUs who have submitted their complete liquidation reports and there are 65 LGUs that are nearing completion with their liquidation)," Pamonag said. (PNA)