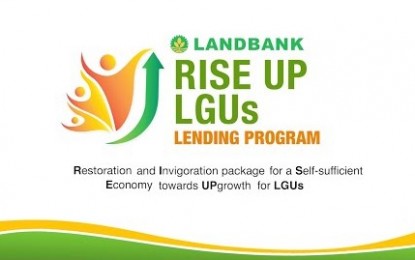 BACOLOD CITY – The Metro Bacolod Chamber of Commerce and Industry (MBCCI) urged local government units (LGUs) in Negros Occidental to avail of financial assistance from the Land Bank of the Philippines (LBP) to stimulate the local economy.
Frank Carbon, chief executive officer of MBCCI, said on Monday that cities, municipalities, and the province can tap the government bank's lending program called RISE UP or Restoration and Invigorating Package for Self-Sufficient Economy towards Upgrowth.
"This program will help keep the economy afloat as they cope with the impacts of the coronavirus disease (Covid-19) pandemic," he said.
Through the RISE UP, the Landbank finances LGUs in providing basic and support services for local enterprises and other innovative programs to bring back development in the local economy.
Landbank president and chief executive officer Cecilia Borromeo said the interest rate is the same for all LGUs without looking at their credit ratings to allow the local executives to immediately implement programs that will boost their local economy.
The government bank has allocated PHP10 billion for the RISE UP LGU lending program, which has an interest rate of 4.5 percent.
Moreover, Carbon also enjoined the LGUs to adapt a business process and framework for planning their efforts to overcome the impacts of the health crisis.
The plan starts with identifying the impact of Covid-19 on health, social, economic and business, and should be followed by developing the framework for short-term to long-term plan throughout the four stages and identifying the imperatives, indicators and timeline for each stage.
"We need to have a guide or roadmap so we could trace back where we did wrong in case our efforts are not producing the results we wanted," Carbon said.
The four stages of the framework included the "now" or response stage, which includes the first half of the year where the province was placed under quarantine for up to three months.
The three other stages are "near-term" or recovery stage, which is during the second half of the year where three to six months post-quarantine was implemented; "mid-term" or rebound stage or six to 15 months post-quarantine in 2021; and "long term" or renewal stage from 2022 to 2023 or during one to two years post-outbreak. (PNA)