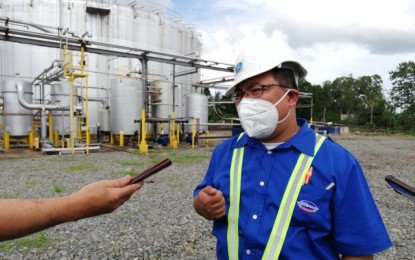 MANAPLA, Negros Occidental – The management of the Victorias Milling Company (VMC) distillery plant in Barangay Purisima here has adopted various measures to prevent pollution as the alcohol production facility resumed operations in recent weeks.
Plant manager, Engineer Sherwin Bacanto said after the plant shut down in June to start the environmental upgrade, they calibrated and tested the system in September and started production again in October.
The facility is designed to produce 60,000 liters of ethyl alcohol per day, but production is still currently at 85 percent.
"We're not only for the production, we make sure every day that we pass the environmental compliance standards," Bacanto told reporters from Bacolod during a tour of the plant on Tuesday.
He said the management has addressed environmental and pollution issues after the surrounding community complained of the waste discharge and foul odor emanating from the plant.
"I'd like to highlight that we have managed and resolved the impact of the production," Bacanto said, adding the plant currently no longer utilizes the "natural lagoon", or the water body in the area in discharging waste.
"The plant is totally disconnected from the natural lagoon. The waste now goes to the world-class designed (aeration) ponds. Then, we convert that to organic fertilizer. That shows our strong commitment to environmental compliance," he added.
So far, sugar producer VMC Inc. based in the adjacent Victorias City has invested some PHP200 million for the distillery plant's environmental upgrade.
Among these are the installation of an anaerobic digester to lessen the presence of odor-causing bacteria in the slops by 60 to 70 percent and converting it to biogas; an automatic flaring system to eliminate odor-causing gases; application of wastewater treatment methods at the aeration ponds such as filtration, aeration, and dosing of enzymes to counteract the odor-causing chemical reaction in the digesters.
In a forum at the village gymnasium, Mayor Manuel Escalante III said he issued a business permit to the distillery plant after management submitted all the requirements, adding he also wanted to give the company a chance to implement environmental protection measures since its operations largely benefit the residents of Barangay Purisima.
Some residents said they have previously expressed pollution-related concerns, but shared they have also seen that the plant management has addressed their complaints.
Three of them, Julius Cesar Cañete, Angela Jumamoy, and Thamar Teresa Genobis, issued a disclaimer on the petition for the closure of the plant that allegedly came from them and reportedly submitted to the Office of the President. (PNA)