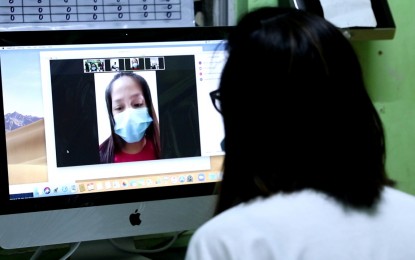 MANILA – Hospitals across the country are utilizing telemedicine services to treat patients for non-coronavirus disease 2019 (Covid-19) cases. But why are doctors still encouraging patients to see them in person?
Dr. Ferdinand Cercenia, a general surgeon at Capitol Medical Center, said telemedicine services were particularly helpful when the government declared a nationwide enhanced community quarantine (ECQ) last March.
"Movements were limited during the lockdown and clinics or outpatient departments were temporarily closed so the only way to speak to patients was through telemedicine," he said in an interview with the Philippine News Agency.
But even after quarantine restrictions were eased, patients have been reluctant to visit hospitals for fear of contracting the virus.
"(Visiting hospitals is) going to be a double-edged sword. You want to get checked but you'll be risking the exposure," Dr. Mervyn Tan, a pediatrics residency graduate, said.
With the pandemic likely to last for many months or even a year, hospitals have taken extra precautions to protect all patients such as screening everyone walking through the door and creating Covid-19 and non-Covid-19 areas.
Healthcare workers are also required to use personal protective equipment (PPE) based on their risk profiles and settings.
Although telemedicine offers increased access to healthcare at the time of pandemic, both doctors said it has limitations and potential risks.
Cercenia said the lack of interaction limits a physician from making a correct judgement on their patients' conditions.
"You have to be extra careful kasi hindi mo nahahawakan yung pasyente. Hindi mo puwede mapakinggan yung heart rate, kunan ng vital signs (because you can't come in contact with the patient. You can't listen to their heart rate, get their vital signs)," he said.
Likewise, Tan said some patients are unable to describe what they feel while others even lie their way to get a medical certificate.
Obtaining an "informed consent" from patients, he said, is crucial before telemedicine services start.
Trust your gut
According to Tan, telemedicine services were already being offered even before the pandemic.
"Doctors-to-the barrios (rural physicians) use them to contact city-based doctors who specialize in certain diseases and conditions, he said.
Despite its benefits, Tan said telemedicine services should be used as a supplement and not replacement to traditional in-person consultations.
"Say you just consulted your doctor but forgot to ask a particular question, patients can schedule a telemedicine consultation to ask their doctor that," he said.
He also expressed hope that telemedicine is taught in more medicine schools, stressing the importance of knowing its legal implications.
As the pandemic lingers, Tan said non-Covid-19 patients just have to carefully evaluate their own condition.
He said the discernment of whether it is "appropriate" for telemedicine or not is very important
"At the end of the day, it's also the patient's choice. If you feel that you need to be seen personally by a doctor, you can go for it," he said.
Cercenia warned that patients may be in bigger trouble if conditions that are fatal are left without immediate medical or surgical intervention.
"Sa amin sa surgery, kung ang complain mga bukol, maigi pumunta face-to-face kapag hindi nagagamot ng prescription (In the surgery department, if you complain about a lump or mass, it's better to have face-to-face consultation especially if it doesn't get cured with prescriptions)," he said.
Meanwhile, he also predicted that more patients will start having more confidence to return to clinics when a vaccine against Covid-19 is finally made available globally.
"Face-to-face consultations will resume. But maybe those who were not inoculated with the vaccine may opt to use telemedicine, especially vulnerable members of society," he said.
Telemedicine services involve medical consultations over the phone, chat, short messaging service (SMS), and other audio and visual-conferencing platforms.
Healthcare providers that conduct these consultations are allowed to issue electronic case reports and prescriptions.
The Department of Health currently offers telemedicine services. For health-related concerns, the public may contact:
-- The DOH Covid-19 Hotlines 1555 and (02) 894-COVID (26843);
-- Telimed Management and Medgate hotline: (02) 8424-1724; and
-- Globe Telehealth, Inc (KonsultaMD): (02) 7798-8000 (free for Globe/TM users). (PNA)