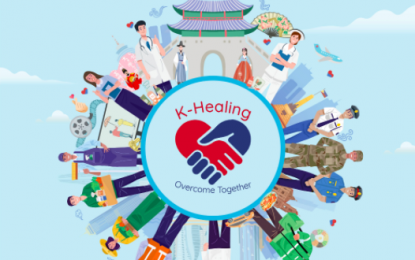 MANILA – Giving back to front-liners battling the pandemic is something that organizations and companies do in their own simple ways these days.
The Korean Cultural Center in the Philippines (KCC) has just joined this roster, by launching the "K-Healing: Overcome Together" campaign that aims to appreciate the front-liners and share their stories.
In partnership with Smart, KCC will give care packages to 10 individuals, and 15 groups (maximum of 50 people).
These care packages are from Korean brands about beauty and fashion, language, food, K-drama and movie, and K-pop.
Smart's partnership with KCC started with the Korean Film Festival as part of the network's GigaFest campaign, a month-long celebration launched last Sept. 19 to show appreciation to its subscribers, said Miriam Choa, head of Smart Prepaid marketing.
"Beyond that, we found it fitting to continue the partnership through the K-Healing program of KCC, as it seeks to honor Filipino front-liners for their sacrifices and hard work amid the Covid-19 pandemic. We are glad to support KCC in its initiatives as Smart shares many of KCC's advocacies, and because of our shared love for Filipinos who also happen to be big 'Hallyu' fans," Choa told the Philippine News Agency over the weekend.
"KCC not only aims to invite the front-line heroes to experience the best of Korean care and culture, but to also find healing through products for pampering, relaxation, entertainment and education," the KCC said in a statement.
Based on the mechanics posted on KCC's Facebook page, one can nominate a front-liner until Oct. 31.
Entries must be in English explaining why they chose the front-liner and why he or she deserves to receive a care package.
Submissions should not exceed 500 words, and must be accompanied with photos.
The organizers will only allow one entry per person, and only entertain entries completed via this link: https://tinyurl.com/khealingnominations.
Nominators will select which kind or category of care package will be received by the front-liner.
KCC will then look for the most inspiring and most heartfelt entries, stories that showcase the Filipino value of "bayanihan" as well.
Selected entries will be announced on Nov. 7 via KCC's social media accounts. Selected front-liners may expect to receive the care package from Nov. 9 to 20.
"As a partner, our commitment is to help spread the word on the K-Healing campaign among our customers across our different channels, and help provide giveaways that will become part of the K-Healing package. Supporting KCC in this project is part of a much broader program of Smart and its parent company PLDT to assist the country's front-liners, as they work hard and sacrifice to help all of us overcome this pandemic," Choa shared.
She also pointed out that hospitals, front-liners, and communities continue to receive support and assistance from "Tulong Kapatid", the Corporate Social Responsibility consortium of the companies under the leadership of Manuel Pangilinan.
Choa noted that Pangilinan said the Group commits to support the government and the front-line workers in the fight against Covid-19 pandemic. (PNA)