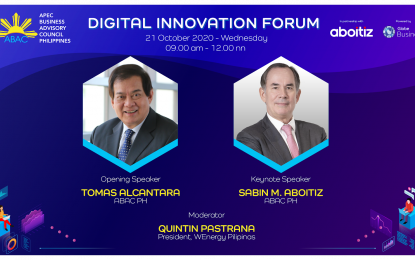 MANILA – Businesses in the Asia-Pacific region are urged to continue investing in digital technology to survive and thrive amid the coronavirus disease 2019 (Covid-19) pandemic.
During the Asia-Pacific Economic Cooperation (APEC) Business Advisory Council (ABAC) Philippines forum on digital innovation Wednesday, ABAC member and Aboitiz Group president and chief executive officer Sabin Aboitiz stressed APEC's main recommendation to member economies to invest in digital technology, improve technological infrastructure, and equip people with digital skills.
Aboitiz said these are now basic investments for economies to survive amid the challenging business environment due to the global health crisis.
"We can all attest to the fact that digitalization has shielded businesses from completely going under in this global pandemic. Some companies struggled to make the shift while for others, it was simply like flipping a switch," he added.
Aboitiz also underscored the need to strengthen the collaboration between the public and private sectors to protect consumers against cybercrimes and fraud, prevent illegal activities, enhance cybersecurity to prevent cyber-attacks, and protect personal data and privacy.
"I cannot emphasize enough that neither the private sector nor the governments can do this on their own. As a matter of fact, no country can do this on their own," he added.
ABAC Philippines chairman Tomas Alcantara said although the Covid-19 pandemic has put many industries to a halt, it has also accelerated digital innovation among businesses and communities.
"The same digital technology will enable us to harness our human capital for the new future-of-work, and the same digital technology that will provide new products and services that support financial inclusion and growth of key sectors, including SMEs (small and medium enterprises)," he said.
Alcantara urged businesses in the Asia-Pacific region to leverage digital innovation to ensure economic growth and opportunities from more liberalized trade and investments.
A report released by the World Economic Forum Tuesday said the workforce is automating faster than expected.
The Future of Jobs 2020 report noted that automation is seen to displace 85 million jobs in the next five years while 97 million new jobs will be generated.
"In 2025, analytical thinking, creativity, and flexibility are among the top skills needed; with data and artificial intelligence, content creation and cloud computing the top emerging professions," WEF said, adding that the most competitive businesses will be those that invested to reskill and upskill their employees. (PNA)