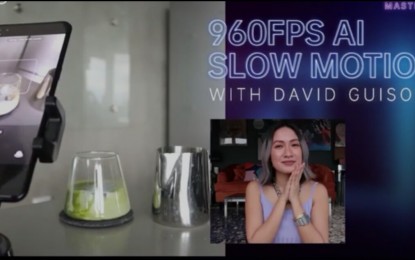 MANILA – When flat lays are so passé, what else can you do to enhance the aesthetics of your social media accounts? Now that many people have more time to take videos and upload these on social networking sites, how can you make yours stand out?
Fashion bloggers Laureen Uy and David Guison recently shared some tips that anyone can actually apply without needing expensive gadgets.
"We used to (take photos and videos) using huge cameras, but now, anyone can do it using a smartphone. I also found out that there are many things inside the house that we could use as props and make our photos even better," shared Uy in a Masterclass organized by Oppo last October 20.
Guison agreed, saying that uploading photos used to be tedious since one needs to transfer them from a camera to a laptop.
Uy and Guison have one million and 411,000 followers on Instagram (IG), respectively. For the IG feeds, the two suggested trying to be creative.
"Challenge yourself and explore what you really want," said Uy, as she referred to choosing a theme. She likes fashion, and thus, many of posts revolve around that theme.
Show your skills. One can express creativity even when taking shots of regular stuff at home, such as food, the two pointed out.
When taking a selfie or portrait, lighting is the key. It also helps to look for your best angle, to make you look slimmer, for instance. One trick to achieve this is to take the photo while holding the phone above and away from you, according to Uy.
"It also helps if you use a tripod, so the camera is not shaky," Guison added.
For dramatic shots, Guison said he uses a different color of lighting when he takes his photos. Night shots are also okay, especially for people who usually find their creative juices at night, he said.
For those who have small spaces like condo units, Uy suggested using-wide angle lens, as this would allow them to also show the background.
TikTokers on the rise
Many people, including celebrities, began using the video-sharing social networking service, Tiktok, at the start of the pandemic. Globally, people are using it to upload viral dance moves, clothes transitions, etc.
"Do what you love," Uy said. Citing herself as an example, Uy shared how she creates her outfit transition videos. She basically puts her outfit (e.g. jacket and hat) within reach, and takes the video by herself using a tripod.
Uy takes the shots one by one, then edits them using an app that enables her to simply cut and select the shots she needs. Voila, she now has a TikTok entry.
Explore on effects and transition. Guison said that using the slow motion effect, one could create an entry that is more pleasing to the eyes rather than the usual shots.
He experimented recording a video of his breakfast (pancakes) and while pouring coffee, and they both looked like those seen in TV commercials.
For that effect, one would only need to use a tripod, then record the video while using the slow-mo feature on your mobile phone, Guison said.
Uy, meanwhile, shared that the steady mode is also useful when taking videos, This can best be applied while walking, so that the subject won't look as if it is bouncing, she said. (PNA)