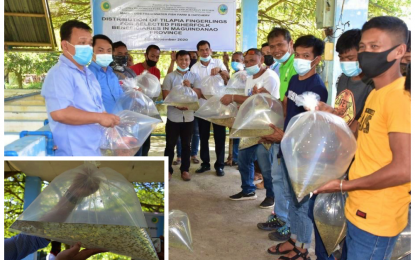 COTABATO CITY – Officials of the Ministry of Agriculture Fisheries and Agrarian Reform-Bangsamoro Autonomous Region in Muslim Mindanao (MAFAR-BARMM) dispensed on Friday some 90,000 "tilapia" (African freshwater cichlid fish) fingerlings to fish farmers in Datu Odin Sinsuat, Maguindanao.
A total of 34 fish farm owners have benefitted from the fish fingerling dispersal program.
"This is to give aid to fish farmers amid this time of the pandemic," Pendatun Patarasa, acting chief of the MAFAR-BARMM fish production division, told reporters here in an interview.
He added that MAFAR has also initiated rehabilitation works at the fish farms of the beneficiaries.
Ansari Guiama, a beneficiary, has promised MAFAR officials to increase tilapia production at his fish farm within a month.
"Tilapia is ideal for farming because it grows quickly amid cheap pieces of vegetables as their food," he said in the vernacular.
Although native to Africa, the tilapia fish is now farmed in over 135 countries worldwide. (PNA)