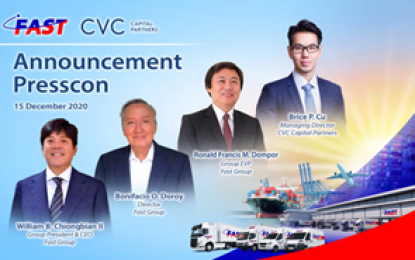 MANILA – Leading private equity firm CVC Capital Partners is investing PHP6 billion in Fast Group Philippines that is set to expand its logistics operations in the country.
"We are committing up to PHP6 billion for this investment for a 40-percent stake. And what's interesting to know is that, it's all primary capital. So all that money will be used for growing the business," CVC Capital managing director Brice Cu announced in a virtual press conference Tuesday.
This is the third investment of the Luxembourg-based private equity firm in the Philippines.
Cu said CVC has seen the prospects of the logistics industry in the country, hence its partnership with a leading local logistics firm.
Fast Group clients include big multinational and local conglomerates such as Nestlé, Johnson & Johnson, Colgate-Palmolive, Procter & Gamble, and NutriAsia, among others, as well as big pharmaceutical and healthcare companies like Zuellig and Green Cross.
Fast Group president and chief executive officer William Chongbian II said the company's main focus has been in food and healthcare even before the Covid-19 pandemic.
As the Philippine government prepares for the coronavirus disease 2019 (Covid-19) vaccine program, Chongbian said Fast Group is eyeing to be part of the Covid-19 vaccine supply chain in the country.
"Yes, we are very meticulously looking at this. We have software developed to really complement the whole ethical supply chain because medicines need really to be within certain stable bands of temperature and we have substantially helped a number of our clients to create this type of supply chain. The chain is not new to us, the scale is new," he said.
Chongbian added two of its customers are actual licensees that will enable the distribution in the country.
Meanwhile, Fast Group director Bonifacio Doroy said CVC's investment in the company will also be used for upgrading its technology.
Doroy said the group expects to end 2020 with a 12-percent growth despite the global health and economic crisis.
He sees growth prospects next year sustaining the double-digit growth, and can even surpass the 12-percent growth.
Fast Group executive vice president Ronald Francis Dompor echoed the same sentiments, adding they expect a better business climate in 2021 as the Philippine economy continues to reopen and recover. (PNA)