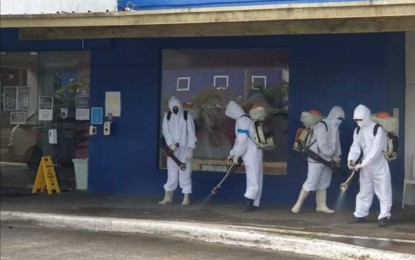 BACOLOD CITY – Business process outsourcing (BPO) firm Transcom suspended its operations here on Sunday night after 41 of its call center agents tested positive for coronavirus disease 2019 (Covid-19).
City Administrator Em Ang, executive director of the Emergency Operations Center Task Force (EOC-TF), said the cases were detected following a surveillance test conducted among its 594 employees on Jan. 29 and 30.
The facility is closed for 24 hours for disinfection and decontamination, she added.
"The EOC is greeted with (a) sudden increase in cases on the first day of February. The outbreak in a BPO company is a stark reminder that this nightmare with Covid-19 is not yet over," Ang said in a Facebook post on Monday.
On Sunday night, Mayor Evelio Leonardia called for a virtual emergency meeting with the members of the EOC-TF to discuss the reported clustering of new cases among the employees of the call center.
After the meeting, Bacolod City Police Office director Col. Manuel Placido visited the site.
Ang said the call center's first case appeared in the EOC line list on Jan. 23. This was followed by two more cases in less than 24 hours and then four more in the next two days.
The city's Monitoring and Enforcement Team visited the site that day to check the firm's compliance with health and safety protocols, but they were not allowed to enter the premises without a letter from the EOC-TF and without undergoing a rapid test first.
The second visit was on Jan. 26 and on the same day, the EOC-TF called for an online meeting with the Transcom management, Ang said.
As the testing team continued to conduct tests among close contacts, seven more turned out positive.
"After aggressive contact tracing and surveillance testing, 16 more cases from the same workplace were found on Jan. 30 and additional 11 positive cases on Jan. 31, bringing the total to 41 new cases," Ang said.
On Jan. 29, she said the EOC-TF held a video conference with Transcom executives from the firm's Iloilo, Manila, and UK offices.
"The EOC continues to closely monitor the welfare of the information technology and business process management workforce throughout this public health crisis and we are working directly with the appropriate national government agencies in ensuring the safety of our IT-BPM (information technology and business process management) labor force," Ang added.
On Sunday, the Department of Health-Western Visayas bulletin showed that Bacolod logged 13 new cases, bringing the total to 5,748.
Of the number, 5,413 have already recovered while there are still 151 active cases, and 184 deaths. (PNA)