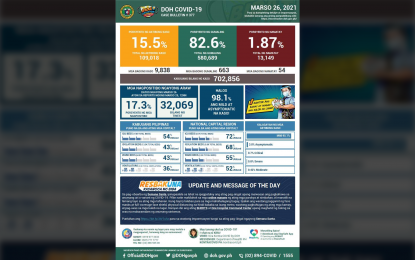 MANILA – The Department of Health (DOH) on Friday reported 663 new recoveries from the coronavirus disease 2019 (Covid-19), raising the total number of recoveries to 580,689 or 82.6 percent of all Covid-19 cases.
The country also recorded 9,838 new infections, the highest single-day number of cases since the start of the pandemic.
This brought the number of active cases to 109,018 or 15.5 percent of all infections.
Among the active cases, 95.1 percent show mild symptoms, followed by those who are asymptomatic at 3 percent, severe cases at 0.8 percent, those in critical condition at 0.7 percent, and moderate cases at 0.42 percent.
It reported 54 new deaths from Covid-19, with the country's death toll now at 13,149 or 1.87 percent of the country's 702,856 infections since the start of the pandemic.
Meanwhile, beds at the National Capital Region (NCR) are at moderate nearing high risk, with the 700 beds in intensive care units (ICU) at 72 percent occupancy, 3,800 isolation beds at 68 percent occupancy, 2,200 ward beds at 55 percent occupancy, and ventilators at 52 percent utilization.
For the whole country, 1,900 beds in ICUs are at 54 percent occupancy, 13,500 isolation beds at 43 percent occupancy, 6,000 ward beds at 43 percent occupancy, and 2,000 ventilators at 36 percent utilization. (PNA)