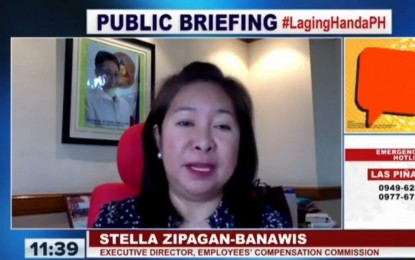 MANILA – Over 32,000 employee compensation (EC) pensioners will get their PHP20,000 one-time financial assistance starting next month.
"We will start releasing (the assistance) this May. When they receive their pensions, the PHP20,000 financial aid will be included," Employees Compensation Commission (ECC) executive director Stella Zipagan-Banawis said in a Laging Handa briefing on Thursday.
Covered by the financial aid are EC pensioners for permanent partial disability, permanent total disability, and survivorship, from the private and public sectors.
"From the private sector, at least 20,000 EC pensioners will benefit while some 12,000 government workers will also benefit," she added.
She said they are looking to complete the release of the cash assistance within two to three months.
Private sector workers will get the one-time financial aid from the Social Security System (SSS) while the Government Service Insurance System (GSIS) will release the cash assistance to government workers.
On April 19, President Rodrigo R. Duterte signed Administrative Order No. 39, which approved the grant of the one-time financial aid. (PNA)