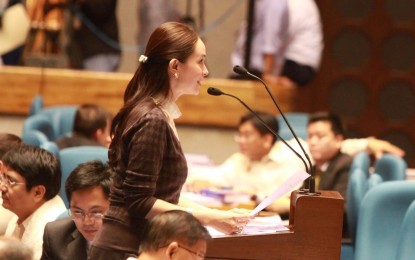 MANILA – Leyte Rep. Lucy Torres-Gomez on Monday said defunding the National Task Force to End Local Communist Armed Conflict (NTF-ELCAC) would be a "concession" of the government's gains in the fight against insurgency.
Gomez said the call of lawmakers to defund the country's anti-insurgency task force is not the appropriate action to "vent frustration" over red-tagging.
The call was triggered by the alleged red-tagging of community pantry organizers by NTF-ELCAC spokesperson, Lt. Gen. Antonio Parlade.
Gomez noted that NTF-ELCAC's PHP16.5-billion budget allotted for the Barangay Development Program (BDP) has helped in addressing the root causes of the insurgency, as well as in bringing peace in communities already cleared from the communist influence.
"The PHP16-billion budget earmarked for the Barangay Development Program, which is a cornerstone in this success, has helped many former rebels transition to regular folks. This is a major headway towards achieving peace, especially in the countryside," Gomez said.
Gomez said the government can still support community pantries, even as it continues its "successful programs towards peace" through the NTF-ELCAC.
She added that while she strongly agrees that public officials should be held accountable for their actions and statements, "rational actions must be made so as not to jeopardize localized programs to end insurgency".
"At a time when our country is facing its biggest challenge in modern times, let us not forget that we are all in the same boat," she said. "This is a time that calls for calm and sound leadership. Let us steer away from drastic actions. Let us all work together to keep our boat afloat during this turbulent time."
Several senators have expressed interest in defunding the NTF-ELCAC, including the BDP, and want the funds diverted to the drive against coronavirus disease 2019 (Covid-19) in the country.
At present, a total of 822 barangays in the country will receive PHP20 million each for BDP project implementation, including road networks, classrooms, water and sanitation systems, health stations, and livelihood projects.
The NTF-ELCAC was created by virtue of Executive Order 70 issued by President Rodrigo Roa Duterte on Dec. 4, 2018 "to provide an efficient mechanism and structure for the implementation of the Whole-of-Nation Approach to aid in the realization of the collective aspirations for inclusive and sustainable peace." (PNA)