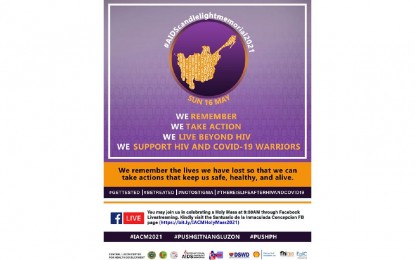 CITY OF SAN FERNANDO, Pampanga – In time for the observance of the annual International AIDS Candlelight Memorial this weekend, the Department of Health Central Luzon Center for Health Development (DOH CLCHD) is urging those who tested positive for human immunodeficiency virus (HIV) to avail of free treatment, care, and support services even amid the coronavirus disease 2019 (Covid-19) pandemic.
Joseph Michael Manlutac, regional HIV program manager, cited on Wednesday the importance of responsiveness of the health sector and the community for streamlined program implementation.
"As HIV is one of the essential public health programs that need to continue with Covid-19, we are innovating ways to improve our approaches in testing, treatment, viral suppression, and cutting across our prevention strategies. Hence, we also urge the community to be proactive in availing the free services that we are offering for HIV testing and treatment," Manlutac said in a statement.
As of February 2021, the DOH CLCHD said Central Luzon remains to be the third region with the most number of reported HIV cases in the country, with about 8,391 cumulative cases from 1984 or 10 percent of the national epidemic.
Meanwhile, the DOH CLCHD will kick off on May 16 its month-long activities in observance of this year's International AIDS Candlelight Memorial, which is held on the third Sunday of May every year.
DOH Regional Director Corazon Flores said the event aims to commemorate the lives of people who lost the battle against AIDS-related illnesses, to show support to the People Living with HIV (PLHIV), and to emphasize multi-sectoral commitment in program implementation.
"This candlelight memorial shall serve as a great reminder of hope and inspiration for all of us, that amidst the adversities, there is indeed life after HIV and Covid-19. This is also an opportunity for all of us to be together, all sectors with one vision, in fighting these two epidemics," Flores said in a statement. (PNA)